Best TV Recording Box: The 9 Best Ways to Enjoy TV Shows in 2023
When you try to intervene in the concepts of recording box for TV, you will encounter three different types of TV recording box. They are PVR, DVD, and smart PVR to store your favorite live shows at your desired storage location for future reference. Gone are those days struggling with VCR and other stuff to record TV live shows, and now due to the advent of digital technology has led to the innovation of the best TV recording box. The PVR satisfies all the recordings related to HD TV. It supports the storage value of 500GB to 1TB. This type of recorder box allows you to store 125 hours of HD videos and 250 hours of SD videos by default. If you take a quick look at DVD recorders, you can store up to 4 hours of live recording without any issues. It offers a convenient platform to share the recorded content with your friends and families. But, the smart PVRs focus on working with a modern smart TV. It serves as a recording box for smart TV. The built-in features of this recorder are compatible with the current design of smart systems.
Part 1. Find Out the 8 Best TV Recording Box
Humax Free View TV Box Recorder
It is a dazzling recorder box available for people residing in the UK. This set-top box provides you with 15 high definition channels and 70 standard channels broadcasting your favorite shows on screen. Apart from video channels, this TV recorder box offers you 30 radio channels. It is a user-friendly box with built-in services such as iPlayer and ITV, etc. The iPlayer can catch the live shows and record them even without any external command from the user. It is an automatic program that integrates the live shows and stores them at the regular storage directory for future view. This scenario occurs when the recorder box is connected with the internet connection 24/7. This Free view TV box recorder is well connected with the streaming apps adding your comfort in recording your favorite tracks from the Apps.
BT TV Recording Box
It is an ultimate recording box, which serves the expectations of the present generation digital population. The BT TV Recording Box is a 4K recordable TV box, and you can store up to 300 hours of standard videos and 125 hours of high definition content without any interruptions. It owns a 500GB hard drive, and you can work on it without any difficulty due to its user-friendly interface.
Now TV Recordable Box
This TV Recording Box has an extraordinary feature apart from recording TV shows. The parental pin protects young viewers from viewing inappropriate content in movies and shows. You must enable this setting to avail of this service. One of the cons of this set-top box is that you will not be able to access the internet, whereas you can connect with Sky cinemas, entertainment, sports channel, etc. to explore shows apart from TV.
MAG IPTV Recording Box
This set-top box serves as a computer and receives a command from the IPTV provider. This set-top box is connected with the internet to record the streaming media effortlessly. The newest version is 322 box. It has faster and better hardware settings when compared to another set-top box in the market. This IPTV provider offers you with Android box to support PC and other gadgets to get connected with it.
Amazon Fire TV 4K
It is one of the brilliant solutions of Amazon TV recorder box with 4K enabled HD streaming features. You can connect this box directly to your TV and record your favorite live shows without any issues. This set box provides you with a microphone to reach out for your desired genres, movies, etc. The recordings' image quality seems to be excellent. This box is compatible with your older HD televisions and provides you with all features despite your TV settings and configuration.
Virgin Media V6
This TV recording box allows you to save nearly six shows and support with a 1 TB hard drive. It serves as the best channel for streaming websites like Netflix, YouTube, Curzon Home Cinema, etc. Also, it is a competitor of Sky and has excellent built-in controls to work on the recorded shows. This recorder box works on the user interface of TiVo, which seems to be a comfortable and familiar environment. There are plenty of options to handle and record HD videos without compromising its quality factors.
EE TV
This set-top box contains 1TB capacity to store your preferred tracks in a well-organized format. The subtle, smart box allows you to record four channels at a time without any interruptions. You can carry out the storing tasks effortlessly and ensures lossless data recordings. If you choose this set-top box, then you can access all sorts of Free View channels easily.
Humax HB -The 1100S
You can view nearly 200 TV channels, including radio and HD broadcasts. This set-top box is similar to Freeview with unique subscription costs. This box allows access to streaming sites like Netflix, catch-up channels, etc. This model is highly flexible when compared to its previous versions. A quality Wi-Fi is integrated with this box for smooth access to online streaming content.
Part 2. The Best Alternative to PVR to Record Live TV Shows
If you can't get a TV recording box, install Wondershare UniConverter and start capturing live TV shows on your Mac/Win computer. This powerful program is fun, simple to use, and can capture computer screen in either custom or full-screen mode and with lossless quality. It allows users to add voice narrations using a mic and a Picture in Picture effect (PIP) using a webcam. Also, Wondershare Screen Recorder supports adding annotations like lines, shapes, texts, and drawings to your screen recordings. Plus, users can convert and edit their recorded video files effortlessly.
Wondershare UniConverter – Best TV Recording Box Alternative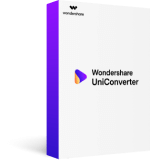 Record live TV on PC in either custom or full-screen mode.
Capture live TV on a computer with voice narrations, system audio, and PIP effect.
Apply colorful annotations like texts, shapes, lines, arrows, and more.
It lets users preset the frame rate, quality, folder path, and file format.
Convert the recorded video to audio/video formats like MP3, MOV, MTS, OGG, MP4, and more.
Edit videos by cropping, flipping, rotating, applying watermarks, adding subtitles, and more.
Best TV recording box alternative for Mac 10.9+ (including Catalina) & Windows 10/8/7.
Security Verified.
5,481,347
people have downloaded it.
Below are steps to record a live TV on Mac/Win using Wondershare UniConverter:
Step 1

Launch Wondershare Screen Recorder function.

Install and launch Wondershare UniConverter, then press Screen Recorder. Now proceed to press the Camcorder button to launch the screen capturing tool.
Step 2

Configure a capturing area.

Drag the screen capture frame inwards or outwards to set a recording area. Alternatively, open the drop-down list below the Recording Mode button, then select Custom or Full Screen. If you opt for the Custom mode, enter the frame dimensions (Width and Height), then press the Lock Aspect Ratio button.
Step 3

Customize the recording preferences.

Open the System Audio menu, then select a device that you'll use to capture the sound of your live TV channel. After that, choose a mic and a Facecam under the Microphone and Webcam sections. This will enable you to add voice narrations and a video overlay during the recording session.
Now navigate to the Settings menu and open it. Here, you can preset the frame rate, quality, and format. This feature also lets you customize the folder path, recording timer, and keyboard shortcuts.
Step 4

Start capturing the TV show on PC.

Last but not least, click the REC button to begin capturing the TV show on PC. When the recording session begins, launch the taskbar, then click the Annotation button to add shapes, texts, lines, etc. You can also disable voice narrations and the PIP effect. And if satisfied, press the Stop button. Preview the video and proceed to edit it using the Video Editor function.
Conclusion
It is time to sum up, the discussion and you had a pleasant journey on a wide range of set-top boxes that assist in recording live TV shows for your needs. These TV Recording Boxes are unique in features and offer you multiple functionalities for quality recordings. The Wondershare UniConverter is an ultimate and user-friendly product providing a comfortable environment for both beginners and professionals. Explore and discover the built-in features of Wondershare UniConverter and record videos at your comforts effortlessly.