How to Record Cable TV in 2020
In the past, people used to have a digital TV recording device that was able to record your favorite TV shows automatically at a set time easily. These devices are used in nearly every house in the old days, but this has faded over time. Screen recorders now replace DVR recorders for cable TV, and people rarely need to record TV shows as they can easily find it on the Internet. Nowadays, people usually make use of screen recording tools on computers to record movies and TV shows.
Part 1. How to Record Cable TV with DVR
If you have a DVR for cable TV, it can be used to record the TV shows with high-quality sound and graphics. This device looks like a DVD player box and needs to be connected with your television to record. People need to insert cassettes in the machine to record the shows, and some even have internal memory that can be formatted as well. It is easy to use to record TV shows with the system sounds in high quality.
The following are the step of recording cable TV shows with the help of DVR.
Step 1 Connect the wires of the DVR to your television correctly in the proper audio and video sockets. Make sure that you have turned the switch off before connecting the cables to avoid getting electric shocks.
Step 2 Insert the cassettes or connect the hard disk to the DVR and turn it on. Your DVR will then be able to recognize it within a few seconds. Now, turn the TV on and set the TV show that you want to record and turn on the DVR. Your recording will start. Once you are done, press the stop button on DVR.
Part 2. How to Record Cable TV on Your PC
If you have capture cards that can connect your computer and PC, it will be easy to record the screen. It can be the best DVR for cable TV and can be a reliable replacement for DVRs. This tool is free to use the open-source tool with a lot of features related to screening recording and streaming.
It has a very simple and clean user interface due to which it is very easy to operate. The following are the steps to use this tool to record TV shows.
Step 1. Open broadcaster software
Visit the OBS website and download the software on your computer device. After finishing the download, install and launch it on your computer. Click on the start recording option present on the right side of the screen just below the start streaming option.
Step 2. Set everything up
You will have to set up the recorder as your convenience and adjust the various settings related to it. You will have to adjust the scene first, and then you will be able to see that there is already a seen created and present on the screen.
Before you can initiate a recording, you will have to set a source as well. Click on the + option beside the area labeled as sources and select display capture and click on the OK button that pops up.
Now, look at the bottom right side of the screen and click on the setting options.
Go to the Output tab and select the recording path field. Set it to the location where you want to save the recorded videos.
Step 3. Initiate the recording process
Once everything is done, open the streaming website where your TV show or movie is present and select the video. As soon as it starts playing, pause it and come back to OBS and click on the start recording option on the bottom right side of your screen. Go back to the streaming website, play the movie, and your video will start getting recorded.
After you have recorded the entire duration of the TV show that you needed, come back to OBS and click on the stop recording button. Your recording will then be exported to your hard disk at the location that you provide.
Part 3. The Other Alternative to Record TV Shows on PC
If you are not content with the OBS tool, there is much other software that you can use to record your favorite shows on TV. One of the best out of them all is Wondershare UniConverter (originally Wondershare Video Converter Ultimate). It is a potent and versatile tool that can be used for a variety of tasks. It can easily do screen recording and other functions like conversion of files, CD burning, editing, etc. Also, there is support for over 1000 different formats for different files like images, videos and documents, etc. The screen recording capability of this tool is quite great, and you will be able to record 1080p videos with 60 frames per second.
Wondershare UniConverter for Mac/Windows (Catalina Included)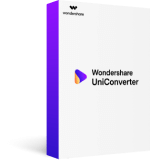 This tool allows smart screen recording, with the feature to record all desktop activities with just your voice.
It also enables activities like video compressor, image converter, building metadata information for videos, the trendy GIF maker, and the VR converter.
It allows one of the fastest conversions in the market, equivalent to 30x speed.
It provides high-quality output with HD quality videos.
It contains more than 1000 formats making it a unique product and supports all kinds of available formats.
It is compatible to convert videos for many devices.
Exhibits technology to intelligently recognize videos from external devices.
Security Verified.
8,797,576
people have downloaded it.
The following are the steps that will help you record your TV shows on a computer using Wondershare UniConverter.
Step 1

Launch the tool on your computer

Download, install and launch Wondershare UniConverter on your computer. You will be able to see an option named Screen Recorder. Click on that and select the screen recorder option.
Step 2

Set preference for recording

After clicking on the screen recorder option, you will see the following screen on your device.
You can set the area that you wish to record by dragging and setting the box as per your requirements. You can enter the height and the width manually as well.
You can also choose custom or full-screen recording according to what you want.
Click on the drop-down menu, and you will be able to access features like quality frame rate, etc. that you can also tweak as you prefer to do.
Step 3

Initiate the recording process

Click on the red circular shaped button on the screen in order to start recording your screen.
There will be a 5-second countdown timer before the recording actually starts.
Step 4

End the recording

After you get the required duration for your TV shows, click on the stop recording button from the floating recording taskbar present on your screen as a floating widget, or you can press the escape key to stop and save it.
Conclusion
Before computers and the Internet were popular, people used to record TV shows with the help of digital TV recording device. With advancements in technology, it has become a lot easier for people to record their TV shows with the help of a capture card, a computer, and a screen recording tool. OBS and other third party screen recorders are commonly used. One of the best tools for recording TV shows is surely Wondershare UniConverter. It is a versatile and powerful, free-to-use software used by a lot of users for conversions, screen recording, video editing, and more.