Deserved to Have Top 12 Freeview TV Recorders in 2023
How amazing it would be to be able to sit on an ideal day like this quarantine time and have something interesting to see on TV. I am sure the age-old sitcoms, telenovelas, and series have started to get to you, and you desperately need some change because, well, home is as far as you can go. Therefore, to make your time seem better, let's talk about a topic which we all know about, but have never pondered. Freeview TV recorders, offering an assortment of channels, are a perfect time to pass away from the usual humdrum of a monotonous life.
But before we even start delving into the topic, let's first understand the concept well. This article is going to talk about everything related to smart TV recorder, which one can be the best option for you, and finally, a revolutionary alternative product that can be used instead of this technology. Let's begin!
Part 1: What is A Freeview TV Recorder?
Freeview TV recorders came into being in the UK when all newer TV sets that were made had an in-built Freeview TV recorder or tuner that allows you to access all the channels offered in Freeview mode. These channels can be used as a back-up in case you have an interruption while watching other usual channels or like I said if you are bored during this home confinement. A collection 70 standard and 15 HD channels are offered with HD version accessible only with expensive TVs. There is also an option of Freeview Play that allows an expansive library of live and popular shows, stand-ups, etc. free of cost opening a whole world of exciting shows featured worldwide in one place.
Now that we understand the concept let's have a look at the top Freeview TV recorders.
Part 2: Top 12 Freeview TV Recorders
Humax HDR-FOX T2
This is one very old but most preferred Freeview TV recorder because of two main things. First is its body design, which is classy and sleek, and second is its ability to record three channels at the same time giving the viewer's a big margin to watch their favorite features. This also supports other forms of media like music with the help of USB drives with a facility to access channels like BBC iPlayer, YouTube that is exclusive to the manufacture's TV portal. The video quality provided here is HD with a good upscaling margin.
Panasonic DMR-HW220
This smart TV recorder comes with a complimentary 1 TB drive that can also be used connect to external disks with a feature of recording two channels simultaneously with the help of two tuners. They contain both the properties of SD mode and HDMI mode to watch the video at HD quality and allows it to play media form all kinds of external devices like a USB. The specialty of this Smart TV recorder is that it can serve as a server between other smart devices and SD recordings.
View21 VWFVRHD50
The devices combine easy viewing with smart compatibility wherein it allows dual recording without interference and is available in 320 GB, which is huge to support recording. This not only allows you to view BBC iPlayer along with other media like YouTube and Spotify but also features two complementary apps for iOS technology, especially the iPhone. These are View21 photo and View21 Play, allowing streaming even on the handheld devices.
Icecrypt T2400
Offering the biggest storage capacity as it comes with a complimentary 2TB hard disk and is the best amongst others in the same range. The best part about this is that it comes with a detailed remote and a display powered by a fluorescent color vacuum. This smart TV has got two tuners that simultaneously records the feature of two channels with an HD video quality. It's got an extensive Electronic program guide for easy navigation along with the facility to export TV recordings to other devices anytime you want.
Panasonic DMR-PWT520
This smart TV viewer features the following properties making it quite a popular demand. These features are a twin-tuner for simultaneous recordings, a complimentary 1 TB extension, and a 3D-ready-Bluray disc spinner while offering smart functionality. Apart from that, it also allows you to play external media through extensions, USBs, SD cards, etc. It has very convenient compatibility with a built-in Wi-Fi system. It has another built-in portal called Viera apps that allows you to record and see BBC iPlayer, Netflix, etc. among others.
Humax DTR-T1000
This device enables easy viewing and consists of a very easy to use interface. It showcases live as well as popular programs with HD picture quality and a remotely placed recording application for iOS devices and Mac OS. It also comes in a sleek box and a descriptive remote.
Samsung STB-E7500
This device is smartly built to facilitate USB and other external media connections, along with the feature of the 'Smart Hub portal' that allows you to access and record many internet-based shows. The presence of two tuners allows simultaneous dual recordings while parallel playing the third one. Accompanied by a 500GB hard drive, it also has a web browser for accessing Twitter, Facebook, etc. along with a Smart View app that allows streaming of featured programs to handheld devices with seamless compatibility.
EchoStar HDT-610R
This sleek smart TV recorder, this boasts of being the smartest and the thinnest Freeview TV recorder showcasing a 500GB disc and dual recording facility. It also conveniently categorizes the files with a stand audio and HD video quality. But the main speedbump is the absence of a remote that takes away its convenient ergonomic functionality lacking in major features that others are providing.
Samsung BD-E8500
This device acts both as a Freeview TV recorder as well as a Blu-ray player with the facility of featuring broadcasts in D version elevating the user experience. It consists of two tuners than can simultaneously record shows along with 500GB hard drive. This also allows parallel viewing of the third channel while the tunes are backing up the other two. Some of the smart features exhibited in this player are- USB media connectors, export facility, and access to smart hub channels featuring internet media like YouTube, Facebook, Twitter, etc. The best part about this is the SmartView app that allows it to be compatible with any handheld devices like phones.
Finlux Freeview 500GB PVR Set Top Box
This device comes with a sleek finish and a 500GB disc space. The best part is the feature of adjusting the resolution according to us, along with the facility for an external port like USB to get connected. Most of the video featured are HD quality along with access to internet hubs like YouTube, Facebook, etc.
Manhattan T3-R Freeview Play 4K Smart
This sleek device allows a subscription-free option to those who don't want to pay money in getting a subscription for the highlighted features. This device showcases HDMI, optical digital, and audio output with the facility of getting an external source connection like USB set-up easily. The only issue is that it doesn't allow connectivity to web-based browsers like Facebook, amazon, thus diminishing its value to some extent.
Pure Avalon 300R Connect
This device is different than the others because of the inclusions of 4 built-in HDMI inputs and one single output, allowing it to act as a server for the other connections in an AV set-up. It features a descriptive remote control with an easy navigational interface and allows web-0based services like BBC iPlayer, YouTube, podcasts, and much more along with media from external devices like USBs.
Part 3: Best Alternative to Freeview TV Recorders
Wondershare UniConverter is indeed the best Freeview TV recorder currently. That's because it's cheaper and easier to find, as you only need to install it on your computer and start recording. Unlike the recorders above, this app lets users record videos with a unique picture in picture (PIP) effect, voice narrations, system audio, and annotations like texts, lines, drawings, and more. As expected, users can set the output format, frame rate, and quality. Plus, it features multiple customizable keyboard shortcuts.
Wondershare UniConverter – Best Smart TV Recorder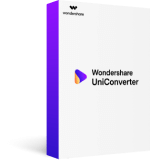 Record all desktop screen activities in Full Screen or Custom mode.
It lets users record desktop screens with or without voiceovers, PIP effect, and system audio.
Customize desktop recording with beautiful annotations like shapes, stickers, lines, etc.
It lets users preset the output quality, format, and frame rate for more professional output.
Edit the recorded video by trimming, converting, cropping, adding watermarks, applying subtitles, etc.
Convert between 1000+ video formats, including MP3, MP4, MOV, FLV, 3GP, and more.
It's the best smart TV recorder for Mac OS X 10.9+ (Including Catalina/Mojave) & Windows 10/8/7.
Security Verified.
5,481,347
people have downloaded it.
Follow these steps to record TV shows using Wondershare UniConverter:
Step 1

Launch Wondershare Screen Recorder function.

First of all, install and launch Wondershare UniConverter. After that, click Screen Recorder on the left pane, then tap the Camcorder icon at the center.
Step 2

Select a region or area to record.

Now launch the TV show or app that you wish to record, then drag the cropper to select an area to capture. Alternatively, click the drop-down list below the "Select a recording mode" button to choose whether to capture the screen in Custom or Full Screen mode. When recording in Custom mode, you can enter the video frame's height and width, then click Lock Aspect Ratio.
Step 3

Customize the recording preferences.

Select an output sound device under the System Audio menu to record the video with your computer sounds. Next, choose a microphone under the Microphone section and a camera under the Webcam menu. This way, you can add voice narrations and a PIP effect when recording the video. You can disable these functions if you want.
Now click the Settings icon below the REC button. On the resulting window, choose the output format, frame rate, and quality. You can also change the folder path and keyboard shortcuts.
Step 4

Start recording the desktop screen.

Hit the REC button to begin capturing the TV show with high-quality. After that, launch the taskbar and click the Annotation button to start adding texts, lines, symbols, and more. You can also take a screenshot, pause the recording session, etc. If satisfied, press Stop and preview the recorded video. Don't forget to edit the video further to make it more professional before sharing.
Conclusion
I would like to conclude this informational blog by pointing towards the number of advantages that the Wondershare Uniconverter can offer as compared with other Freeview TV recorders because these recorders provide revolutionary technology that revolves around the concept of TV recording with ultra-modern technology to support it, but this UniConverter offers every aspect of audio and video recording experience combined with revolutionary technology making it a priority option and much demandable software as compared to the devices available in the market for the same job.