How to Record TV Shows with USB Stick in 2020
Traditionally, people used to purchase a VCR or video cassette to record TV programs. This trend lasted for many years, but the invention of the USB stick changed everything. You don't need VCR or DVR to record TV shows anymore. USB for recording TV programs works with the help of an external USB drive. You can use it to record your favorite TV shows - all you have to check if your TV is compatible to record or not. Nowadays, almost every TV model comes equipped with a USB for recording TV programs. You can view shows without any loss in the quality while recording. This article has introduced some steps of recording TV shows to USB sticks using tools like Wondershare Uniconverter. Additionally, we have also shared the best USB sticks for recording TV.
Part 1: How Does USB Stick Work on Recording TV Shows
USB sticks have gain popularity for a wide range of people. Almost every person uses it today to store data. It is used for storing a variety of information and files. Do not confuse Pen Drive and or USB drive. Both are the USB flash drive for storage. USB stick refers to an electronic device meant for the transfer of files, backing up, and many other purposes. It uses flash memory for storing everything. It also works for recording TV via a USB stick.
There are numerous USB sticks, but we only communicated about the best USB memory stick for recording TV. However, you know that the best USB stick for recording TV should have a minimum of 128 GB size with USB 3.0. Assuming you want to record the high definition TV show, 128 GB USB stick is the best USB memory stick for recording TV. The top three best USB memory sticks for recording TV are:
1) SanDisk Flash Cruzer Glide USB Driver
SanDisk is one of the leading brands accessible in the manufacturing of quality USB memory sticks. It offers capacities ranging from 8GB to 256GB, which can store all your TV in HD format. Moreover, the retractable design makes it more efficient and safe to use as you can withdraw the connector while not using it.
2) Samsung USB 3.0 Flash Drive
Samsung has always been in the top list for its amazing performance in the electronic field. And another top-notch USB stick you can find is Samsung USB 3.0. It claims to be waterproof, shockproof, magnet proof. You get a 5-year warranty with this.
3) Netac 32G USB 2.0 Flash Drive
A yet another USB stick to record TV is Netac Flash Drive. It comes with a unique design, and it has a metal clip that can rotate 360 degrees and a small ring attached for the key chains so that you can take it anywhere with you easily.
If your TV comes with a USB stick port, plug a USB memory stick for recording TV via USB. For detailed steps, read the following points.
Step 1: Connect USB HDD
Get a USB HDD and connect it to a free USB port located on the TV's back.
Step 2: Format the USS HDD
Format it to remove all the data and start using a USB stick to record TV. Some models identify the USB HDD automatically and tell you to format it. However, there are models in which you have to go to the menu and choose Format HDD.
The format is performed in the proprietary format. It attaches to the TV, and you won't record any TV programs on a TV. Therefore, disconnect it to view the program on another TV. The maximum number of USB HDD allowed by a TV is 8
Step 3: Start recording
Start the recording of a TV program by using the remote control. Press the recording button and schedule it for daily records with the timer function. This process fits for most of the televisions. The detailed process is given in a TV user manual.
Part 2: Best Alternative to USB Stick on Recording TV Show
Wondershare UniConverter (originally Wondershare Video Converter Ultimate) is a video converter tool for experts and newbies. It permits you to download videos from an endless number of websites at an unimaginable speed. This tool contains many features to meet the demands of users. The software has the potential of converting videos to around 1000 formats. It let you compress, transfer, add metadata in a video, and much more with few clicks. Install it on Mac or Windows PC for recording TV shows from USB sticks. It contains the following features:
Wondershare UniConverter for Mac/Windows (Catalina Included)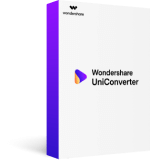 Built-in screen recorder for recording TV shows
It offers video conversion to multiple formats at a very high speed.
The software is user-friendly and features an intuitive user interface.
You can customize a video in your way by removing unwanted parts through trimming, crop it to the desired size, merging, and so on.
Use it as a DVD burner and rewrite the files according to your needs.
Convert an image, create GIFs, convert any video to the VR format, all necessary feature is available.
Overall, it delivers impressive performance when you are working on it.
Security Verified.
8,797,576
people have downloaded it.
Step 1

Launch Wondershare UniConverter

Download Wondershare UniConverter by visiting the official website. Launch it when the installation process completes.
Step 2

Open Screen Recorder

Open the Screen Recorder tool. It opens the screen recorder window.
Step 3

Fix the Recording Preference

Capture Area Setting

You have the option of dragging the Cross icon located in the middle for moving the frame or pinching it. Moreover, if you wish, add the width and height as per the choice. Otherwise, click the Drop-down icon for selecting custom or full recording. Fullscreen record the entire screen, whereas custom mode gives you the freedom to choose the size of screen recording.
For more recording settings, go to the setting button. Set the timer of recording, shortcut button.
Step 4

Initiate Recording

You know where to click on now. Just click the red REC button to initiate the recording. The application provides 5 seconds so that you can prepare yourself for the recording. After your TV show overs, either hit the Esc key or click at the Stop button present at the recording taskbar's right side. Another way is to use Ctrl+F6.
Make sure you have interpolated a USB 3.0 flash drive to your device. A folder appears naming UniConverter Downloaded that shows the recorded TV show to you. Move the file to the USB drive.
Conclusion
We understand that it's not possible to remain stick to your TV to watch favorite TV shows at a particular time. If you are missing daily TV shows, then the best option is to record and save them. Wondershare UniConverter eases the recording TV via USB. It would be a much more excellent option than the previous one. Run your PC or laptop, connect the USB memory stick and then launch the UniConverter when your show begins.