How to Choose the Best Digital Video Recorders for TV in 2020
Since the years after the debut of TiVo, buying digital video recorder for TV has changed. DVRs are like a new breed for the recording device, which takes away the hassle and helps you record the favorite shows and time-shift your TV. Either way, the theory behind it is, "no work should disturb with your entertainment or favorite show schedule." Just record it and watch it later. One generally gets a DVR through their cable company. If you are willing to buy one, you need to question yourself before spending all that hard-earned cash. In this article, we are going to help you choose the best digital video recorders for TV easily. We will also show you an alternative way to record TV shows on PC instead of using a digital video recorder for TV.
Part 1. Why Need DVR in Life?
Digital video recorder for TV is also referred to as Personal Video Recorder. It is one of the smart inventions of technology, which has created a complete revolution over our television entertainment consumption. DVR is a player sized box that comes with two or more tuners of TV (insider DVR), which helps in capturing all the necessary broadcasts and saving them over the hard disk drive (different from Personal Computers). A DVR can record and hold hundreds of hours recording, depending upon what size of the drive is used and whether or not the recordings are made in the high-definition channel.
If you are wondering why you need a DVR for antenna TV recording or when you need the same, guess you already know the answer. But just to simplify, you might need the same if:
● Your schedule is different from the one on which your favorite TV show is broadcasted.
● You are just a show or news or game highlight watcher, as using it, you can easily skip to any part of the broadcasted show instantly.
● You have a very uncertain work schedule, the digital video recorder for antenna TV is again the right choice for you as you can easily pause the live TV show and playback or even skip back if you missed something.
● You want someone to record all the shows automatically. Just program your DVR the same and leave the rest.
● You wish to have multiple shows recorded at the same time. Depending upon the model of DVR, you can start the same and enjoy other recorded TV shows at the same time.
Part 2. How to Choose Your DVR?
While you choose the TV shows out digital video recorder, there are certain things which one needs to consider before buying it. Like you are looking out for multiple cameras that can play and sync at the same time, or you are willing to have a little more of audio channels or even having a check if the DVR has FF & REW functions. You need to make sure that the list prepared by all the specifications, functions, and features are right therein. You might doubt how exactly are you going to choose among varied aspects? Do not worry, and we do have recommendations for you.
Key considerations:
● You can keep this in mind and quickly narrow down the search you are making. So, checking around, ensure asking these questions:
● Are you planning to record shows from a cable provider or over-the-air antenna? It is one of the most important questions to ask as DVRs version and types differ based upon the same. So, for a TV subscription, look for models that states explicitly CableCARD™ compatible. If shows are recorded from local broadcasts, ask yourself, how you are planning to connect the antenna with DVR.
● How many shows are you willing to keep on the digital video recorder for TV? Remember, storage drives cost more. So, make sure, depending upon your budget and requirement, you either choose between one with high storage or USB port, which can help expand storage.
● Another key consideration to look for is whether or not you own a streaming box. If you have the same, it's covered, or else you can choose a DVR where you can watch Netflix and recordings too (some act double duty). But if you wish to stream the content on TV, it's better to get a DVR with built-in streaming video apps.
Features
Depending upon all and separating well from amazing DVRs, we also have a feature list which you should look for before getting the best digital TV recorder.
4K support: Some DVRs support 4K. They have the best streaming apps together with 4K content. So, if you plan your DVR to use as a 4K streaming box, get one with the considerate support.
Multiple tuners: Different DVRs have a different number of tuners, and this is what differentiates them. These tuners determine how many shows can be recorded at once. So, considering your favorite shows airing, pick a DVR with sufficient tuner keeping track over your budget. The DVR has a minimum of two tuners, and we recommend you to have 4.
Storage capacity: Remember all have hard drives, but the bigger it is, the maximum shows you will record. As our recommendation, you should always have a little more space than you need, and a minimum of 500GB is what your DVR should have.
External storage compatibility: In some of the DVRs, there are USB ports that will ensure you use your flash or external hard drive and get yourself more of space. But, with these DVRs, the shows recorded cannot be transferred to the PC, as there is file limitation and also copyright restrictions.
DVR prices: The entry-level DVRs cost around $150-$200. Within this range, one can easily get a digital video recorded for over the air TV. These DVRs have interfaces that are clunky or need more of your spent time together with personal storage space, which you would need to provide. There are also CableCARD™ DVRs available within this range. So, research them before you get one.
Part 3. The Best Digital Video Recorders for TV
Understanding the requirements and necessity of today's population, we have prepared a list of 3 essential DVRs for your TV with their important features, which will make you have a choice even amidst the best.
TiVo Bolt OTA Antenna
TiVo Bolt OTA Antenna is a non-disappointment for users with the best of features (of Roamio line) one might need in their digital video recorder for antenna TV with 4K technology. Although what you should be aware of is, for their whole-home capacity, one needs to purchase TiVo mini additionally. This DVR also doesn't offer cable capability. Apart from these, the below-mentioned features still make TiVo Bolt OTA Antenna, our very first choice to recommend.
Features:
● They offer up to 150 hours of recording capacity with commercial skip mode.
● With the 4K capability, they provide feature-rich updates (on Roamio line) and out-of-home streaming (optional).
● The use of the interface is effortless, and it connects to the TV easily via HDMI.
Tablo 4 Tuner Digital Video Recorder
Subscription free digital TV recorder with Wi-Fi, this is what the company offers here. The device comes with 4 tuners onboard and also has robust connectivity over Wi-Fi. The set-up of the DVR works best over iOS devices and might get a little flaw if you are trying to use it over an Android or Windows device. If you are planning to connect the DVR with an external drive, this might get a trial-and-error process for you. But if you are looking for the 2nd best choice, this DVR is the one best deals available in the market.
Features:
● No subscription required with this whole-home DVR and its ongoing support and upgrades by the manufacturer for keeping the firmware current is also available.
● The DVR comes with 2 tuners considering the over-the-air reception, which you will make with a separate antenna.
● Easily connectable to Wi-Fi, together with Ethernet input and the USB port.
AVerMedia EZRecorder
The EZRecorder by AVerMedia might not be as intuitive as the ones which are higher-priced models, but it is undoubtedly worth DVR to have within the budget. Customer service with this DVR comes useful, and one might need to purchase an internal hard drive too. So, we are putting it on our 3rd best choice recommendation to check out the features of this DVR for antenna TV recording.
Features:
● It comes within the budget-friendly price and offers HDMI connectivity.
● The recording is easy, and the DVR is versatile.
● It has a smaller footprint and is MP4 and JPEG compatibility.
Part 4. The Best Alternative to DVR to Record TV Shows on PC
DVR is a great way to record all your interesting shows on PC or TV. But you still have to spend an amount of money buying a digital video recorder for TV. We have the best alternative to DVR to record TV shows on PC. That alternative is called Wondershare UniConverter (originally Wondershare Video Converter Ultimate). This software is an all in one toolbox that has all kinds of tools related to video and audio. It's the best video converter that will help you to download, edit, compress, transfer videos, burn, add video metadata, etc. and many other features. With all these features, screen recording is one of the perks that you can enjoy anytime with this powerful video converting toolbox.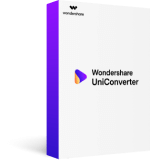 A screen recording feature makes it stand out
It converts videos at 30X high speed in full quality every time to any format possible.
It has a great video editing tool that allows you to edit your videos and make them stand out.
It allows users to save videos from more than 10,000 sites all over the Internet.
It has a powerful DVD tool that will help you to create and edit DVD files in the easiest way possible.
Supported OS: Windows 10/8/7/XP/Vista, macOS 11 Big Sur, 10.15 (Catalina), 10.14, 10.13, 10.12, 10.11, 10.10, 10.9, 10.8, 10.7, 10.6.
Security Verified,
5,942,222
people have downloaded it
Step 1

Launch screen recorder.

First, you need to download, install, and launch the toolbox on your computer. Then choose the Screen Recorder option from the left menu of the program homepage and select the
option.
Step 2

Set capture area.

After that, the program will allow you to set the recording preference from a recording window just like the below image.
From there, you'll be allowed to set the recording capture area settings and set the recording settings according to your preference.
Step 3

Start to record the screen.

Next, you need to click on REC to start the recording process. The recording will begin at a 3-second countdown.
Step 4

Stop recording.

You need to click on the Stop button from the recording taskbar, or you can tap the Esc button from your keyboard.
Conclusion:
In our final words, we want to say that the best digital video recorder for TV can help you record your favorite TV shows whenever you want. You can do something else in the meantime and keep your favorite show recorded so that you can watch it later when you are free. With our review of the 3 digital video recorder for antenna TV and information on how to choose the right DVR for you, selecting a good quality DVR won't be a problem for anyone. As an alternative to DVR, you can start using UniConverter because there is no other tool like this one.