Top 5 Live TV HD Recorders on PC in 2023
Recording live TV on a PC can be a real challenge, especially if you're new to it. You either pay an expert to get it done or find an HD recorder (TV recording software) that you can use to achieve your goal, which is often cheaper. However, selecting reliable, easy-to-use, and efficient software to create HD records of your live TV shows from thousands of software out there is yet another challenge on its own.
Fortunately, we have identified the best live TV recorders for Windows and Mac that are available today based on their performance, and we are going to highlight them in this post. Also, we will show you how to use the HD recorder to record high-quality videos with minimal effort.
Part 1. Best Live TV Recorder for Mac and Windows Recommended
If you're still searching for the best live TV recorder for your Mac or Windows computer, use Wondershare UniConverter. With this powerful tool, you can capture HD quality videos on your computer. Users can record VoIP apps, video games, movies, music, software tutorials, and so on. Before recording a video, Wondershare UniConverter lets choose a microphone for applying voice narrations and a webcam for adding a Picture in Picture (PIP) effect. Not only that, but this software also lets you add annotations like lines, shapes, texts, and drawings while recording the computer screen. Plus, you can edit the recorded clip by trimming, adding captions, applying effects, etc.
Wondershare UniConverter – Best Desktop Live TV Recorder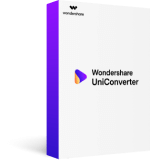 Record desktop activities like live TVs, movies, audio, video games, VoIP apps, and so on.
Capture a computer screen activity in full screen or partial mode.
Add voice narrations using a microphone and a PIP effect utilizing a webcam.
Apply beautiful and colorful characters like shapes, lines, texts, and more to your recordings.
Preset the output format as MP4, AVI, or FLV.
Convert between 1000+ video file formats with lossless quality.
Best HD video recorder for Mac OS X 10.9+ (including Catalina) and Windows 10/8/7.
Security Verified.
5,481,347
people have downloaded it.
Below are the steps to record a Live TV on Mac/Windows using Wondershare UniConverter:
Step 1

Download, install and launch Wondershare Screen Recorder.

Run the software on your computer, then click the Screen Recorder tab. After that, tap the Camcorder button to run the Screen Recorder function.
Step 2

Set a recording area.

Launch the Live TV station, then drag the recording frame inwards or outwards to set a capture area. Alternatively, set the recording mode as either Custom or Full Screen. Users can enter the frame dimensions and tap the Lock Aspect Ratio when using the Custom mode.
Step 3

Select your input devices and output format.

Open the System Audio menu and choose a device to use when recording the system sound. You can also set an input sound device under the Microphone menu and select a camera under Webcam.
After selecting your devices, click Settings, then set the output format as MP4, AVI, or FLV. Proceed to set the output quality as low, high, or medium and the frame rate. And lest I forget, you can customize the keyboard shortcut and folder path.
Step 4

Begin recording a live TV on your computer.

Click the REC button to begin capturing a live TV channel on your laptop or desktop. You can add annotations like lines, texts, arrows, shapes, and drawings to make the video more informative as you record. Lastly, click the Stop button to finish the recording session. It's that easy!
Part 2. Other 4 Options to Record Live TV on PC
Apart from Wondershare UniConverter, there are many other alternative live TV apps that allow you to record TV shows on your PC. However, the ones we recommend include:
Filmora Scrn
Filmora Scrn is a wonderful screen recorder and video editor that let you capture webcam, gameplay videos, audio, and computer screen simultaneously without placing a limit on the video duration. This HD recorder gives you the ability to record HD content in 15 to 120 frames per second (FPS). Just like the Wondershare UniConverter, Filmora Scrn allows you to add annotations like subtitles or text to videos to improve the viewing experience of your audience. You can even modify the shape, color, and size of your cursor to make it unique.
With this TV recorder, you don't have to install a separate video editor as the tool boasts a massive range of tools to edit and refine your video recordings. It supports over 50 file formats and can also export videos in different file formats. The software offers a free trial version and is compatible with Windows and Mac.
Key features
● Record from webcam and computer simultaneously
● Supports over 50 file formats
● Full editing suite
● 15 to 120 FPS
● Changeable cursor
Plex
Plex is a media center with client-server that allows you to stream multimedia to client apps or record your favorite live TV shows. It supports Mac and Windows OS as well as other platforms and retail with a monthly subscription fee of $4.99. It has an intuitive interface and includes the Time Shifting feature that allows its users to pause, fast forward, and rewind live TV playbacks. It also has a lot of client apps and can sync your recorded live TV show to tablets, smartphones, and consoles.
Key features
● Live TV and DVR
● Free movies and TVs
● 30-days free trial
● Watch, record or stream videos and music contents
● Intuitive interface
Kodi
Kodi is a full-blown media center that allows you to stream movies, play music, videos, and image slideshows and watch or record live TVs via its extensive range of plug-ins. This HD recorder is open-source software that is compatible with Linux, macOS, Windows, Android, and iOS. Kodi depends on PVR plug-ins for it to perform live TV recording, so you need to add to plug-in to it. Fortunately, there's a lot of PVR plug-ins like MythTV, NextPVR, and MediaPortal that you can install to schedule live TV recordings.
Key Features
● Support different Operating Systems
● Organize TV shows for easy access
● Support almost all media file formats
● Stream music and internet radios
● Record TV shows and contents
NextPVR
NextPVR is a freeware personal video recorder for macOS, Linux, Docker, and Microsoft Windows. The app is designed for live TV recording and playback. It is one of the most reliable backend servers to use with media centers. It has an intuitive interface that includes a TV guide; that is why it can function without front-end software.
The app is compatible with a range of DMB-T, QAM, ATSC, DVB, and analog devices. It comes with a web application that allows you to manage your recordings. It can also schedule recordings and has several recording type options to choose from, such as Record Once, Record Season, Record Weekends, and Record Weekly.
Key Features
● Compatible with a range of devices
● Intuitive and easy to use interface
● Include all TV functions
● Accessible support
● Free for personal use
Conclusion
Whether you're looking to record your PC screen to create video tutorials, record games, and video call or you just want to record live TV for future viewing, you need the right HD recorder for the job. That is why we've created this guide to show you the top five TV recorders that can help you achieve your goal. Wondershare UniConverter is our top live TV recorder on PC due to its loads of amazing features. However, we also recommend the other four alternative live TV recorders that we mentioned above due to their reliability and exciting features. Now that you've learned about the top 5 live TV recorders on PC in 2020, its high time you took a look and selected the one that suits your needs.