How to Record TV Shows to A Computer in 2023
If you are looking for an easy method on how to record TV shows and movies that you can watch later or keep them for your personal collection or video library, you are in the right place. Here you will learn what peripherals you would need and how to set them up in order to record anything broadcasted on the TV channels right on your computer.
In one of the following sections, you will also learn how to record TV to a computer with the best application available today instead of using the traditional or obsolete method with limited options to get the task done.
Part 1: What Should You Do Before Recording TV Shows
Before you start off with recording your favorite TV shows and movies on your computer, there are a few devices you must have, and some preliminary steps that you must take. These peripherals and proper setup are required for flawless and quality recording.
What You Need
The hardware you need include:
● Personal Computer (PC)
Any computer can be used to record TV. You can either use a desktop PC or a laptop with sufficient free space in the hard drive or SSD to save large video files. However, it is noteworthy that depending on the type of computer, your selection of other peripherals can be diversified.
● TV Tuner Card
TV tuner cards are of both internal and external types. While the internal cards can be used in desktop computers and installed on a PCI slot, the external cards are connected to a PC via USB. That said, unless there is a specific need, you may want to avoid buying an internal TV tuner card, and get an external one that can be connected on both desktops and laptops with ease.
● Coaxial Cable
TV signals usually transmit over a coaxial cable that has a BNC connecter preset at its end. Make sure you have the cable, and that it is correctly connected to the source of the signal.
● Bayonet Neil-Concelman (BNC) Connector
It is a small connector that is present at the end of the coaxial cable and is used to connect the cable to the TV (or TV tuner card in this case).
The service(s) you need include:
● Cable Service
You must have channel subscription(s) to have a TV show or movie in the first place. You can use a set-top box (STB), a direct cable connection, or a dish antenna from a specific service provider to have access to the movies and TV shows you want to record.
The recording software you may need include:
● Built-In Program
When you buy a TV tuner card, you will get a driver installation disc along with it that also contains recording software developed by the same vendor. This software has all the functions and features that enable you to record the TV.
● Third-Party Program
If you are looking for some advanced tools that also allow basic to complex editing, video manipulation, audio treatment, the free software that shipped along with the TV turner card might not suffice. You would need a third-party application (explained in one of the following sections) to get the job done.
How to Set Up
Setting up your hardware to record TV is relatively simple:
● Connect your TV tuner card to the USB port of your desktop or laptop computer (or to the PCI slot in case of internal card and a desktop PC)
● Make sure that one end of the signal cable (coaxial cable) is connected to the source, and the other end has a BNC connector properly attached to it
● Connect the coaxial cable to the TV tuner card
● Scan your TV tuner card for available channels and save them as needed
Part 2: How to Record TV Shows on a Computer
If you want to record a TV show on Mac/Win without breaking a sweat, use Wondershare UniConverter. This screen recording app is fun and simple to use, making it excellent for both novice and experienced users. It lets users capture the entire desktop screen or select a specific area to record. During the recording session, you can add voice narrations, Picture in Picture (PIP) effects, annotations, and so on. And yes, it lets you edit the recorded video by converting, trimming, cropping, applying video effects, and more.
Wondershare UniConverter – Best TV Show Recorder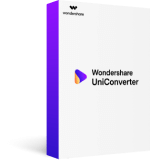 It lets users record the entire desktop screen or select a specific part to record.
Record TV shows with Picture in Picture effects, voice narrations, and system audio.
Apply unique annotations like lines, texts, drawings, shapes, and more while recording TV shows.
Edit the captured video clips by adding watermarks, applying subtitles, cropping, cutting, merging, and more.
Convert the recorded video to MP4, FLV, MTS, MOV, WMV, and other video formats.
Best TV recorder for Mac OS X 10.9+ & Windows 10/8/7.
Security Verified.
5,481,347
people have downloaded it.
Below are the steps to record TV shows on Mac/Win using Wondershare UniConverter:
Step 1

Run the app and launch Screen Recorder.

Run Wondershare UniConverter on your desktop, then click the Screen Recorder tab. Now click the Screen Recorder button to launch the video recording function.
Step 2

Select an area to record.

Launch the TV channel you wish to record, then drag the recording cropper to choose a capture area. Alternatively, open the menu below the Recording Mode function, then select either Full Screen or Custom. When capturing a TV show in customized mode, enter the frame dimensions and click the Lock Aspect Ration checkbox.
Step 3

Customize your recording settings.

If you want to add voice narrations as you record a video, click the Microphone menu, then choose an input mic. After that, click Webcam to select a camera for adding a video overlay if you need to. Most importantly, choose a sound output device under the System Audio section.
Further, open the Settings menu, then set the target file format as FLV, MP4, or AVI. You can also set the folder path, frame rate, and video quality.
Step 4

Start recording a TV show.

If everything looks set, click the REC button to start capturing your Tv show. Now launch the taskbar, tap the Annotation icon, and begin adding texts, drawings, lines, shapes, and arrows to your recording. Also, tap the Camera button to take a screenshot. Finally, press Stop to finish recording the TV show on your computer.
Conclusion
Learning how to record TV shows or movies on a computer is simple as long as you have access to the right peripherals, reliable TV service or subscription, and efficient software that can interact with the hardware your PC has. Thankfully Wondershare UniConverter is here with all the advanced features to help you make your TV recording experience smooth and seamless.