How to Record OTA TV Shows in 2023
The good news is, there are several ways you can record OTA TV shows and movies as long as you have proper cable connection/channel or service subscription, and other hardware resources that make the recording possible. However, depending on the type of devices you have access to or your budget to buy those peripherals, if you don't, the complexity of the process on how to record OTA TV may vary.
That said, here you will learn about what OTA technology is (in case the term is new to you), what are some of the ways you can record the TV, and what is the best method you can go for that is both pocket-friendly and is easy to set up and use.
To help you along the way, we have compiled a step-by-step guide to edit TV shows recorded from your Xfinity X1 TV box.
Part 1: What is OTA
OTA stands for Over-The-Air.
Any signal or data that travels through the air to reach from one end to another end is called OTA. In terms of radio and television, since the signals are broadcasted and received wirelessly, the entire transmission process is termed as OTA or Over-The-Air.
Part 2: How to Record OTA TV Shows
As explained above, there are a couple of ways you can record OTA TV, and the method you pick may depend on the type of hardware you have access to. Some of the most common practices in this context are discussed below:
Method 1: Using TV and External HDD/USB Stick
Requirements:
● Smart TV
● External Hard Disk Drive with USB (2.5" Recommended) or 8GB-64GB USB Drive
If you have a smart TV with a USB port, setting up your TV for recording using this method is simple. All you need to do is to connect your storage device to the TV, format the drive when prompted, and schedule the recording or start capturing the show or movie instantaneously using the Rec or Record button that the remote control has.
Heads-ups and Considerations:
● All the data on your external HDD or USB will be permanently deleted when you format the drive as the TV prompts. You may consider backing up your files before connecting the storage to the television for recording.
● Using a USB drive may limit the amount/number of TV shows that can be saved to it due to its limited storage capacity. Therefore, you may want to use an external HDD instead.
● Not all USB drives are compatible with the TVs. If your TV can't recognize the USB stick you have, you may need to buy a new one. You can avoid all this confusion by using an external HDD.
Method 2: Using TV and a DVR
Requirements:
● TV
● Digital Video Recorder (DVR) with Hard Disk Drive
As long as you have a TV that supports SCART connections, using a Digital Video Recorder (DVR) to record TV shows is simple. However, it is noteworthy that depending on your television type and the DVR you have access to, the set-up process and its complexity level may vary.
Heads-ups and Considerations:
DVRs are of different types, and you may want to check their technical specifications and details before investing your funds in to get the best bang for the buck.
You are encouraged to set up your devices on your own only if you are comfortable with the process. If the case is otherwise, make sure to get assistance from a professional technician in order to avoid any inconsistencies or damages to the hardware
Method 3: Using a Computer
Requirements:
● Desktop or laptop PC
● TV Tuner Card
● Software
At the time of this writing, this is probably the most straightforward and cheapest way to record OTA TV. The reason for this is, a TV tuner card is less expensive than the other hardware devices like an external HDD or DVR explained in the previous two methods. Also, the required software is already shipped along with the TV tuner card, and you don't have to search for one to record the shows.
Heads-ups and Considerations:
The software that comes with the TV tuner card may have limited features. If there are advanced tasks you want to perform, such as video editing, audio manipulations, etc., you may need separate screen recording software that has been specifically developed for the purpose.
Although all computers already have a hard disk or SSD or both, if you record too many shows or movies, you might quickly run out of space, and you may need to buy additional storage device(s) to accommodate the new captures.
Part 3: The New Way to Record OTA TV Shows
If you want to use Method 3 to record OTA TV shows, there is some good news for you in the form of Wondershare UniConverter. This desktop app is straightforward to learn and use, and lets you record any desktop action professionally. Firstly, users can record OTA TV shows in either custom or full-screen mode. After choosing a recording region, you can select an audio input/output device and a camera for applying a video overlay or Picture in Picture (PIP) effect. Moreover, users can add annotations like shapes and texts to their recordings.
Wondershare UniConverter – Best OTA TV Show Recorder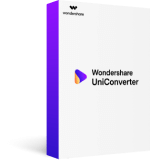 Record OTA TV shows in full screen or customized mode.
Capture desktop screen with system audio, voice narrations, and Picture in Picture effect.
Apply special annotations like texts, lines, and shapes to your TV show recording.
Convert the recorded video to MP4, AVI, FLV, WebM, MTS, 3GP, DV, and other video formats.
Edit the recorded video by trimming, cropping, applying video effects, adding subtitles, etc.
It's the best app to record OTA TV shows on Mac OS X 10.9+ & Windows 10/8/7.
Security Verified.
5,481,347
people have downloaded it.
Below are the steps to record OTA TV shows on Mac/Windows using Wondershare UniConverter:
Step 1

Launch Wondershare Screen Recorder function.

Install and run the software, then click the Screen Recorder tab. After that, press the Screen Recordericon to launch the video recording function.
Step 2

Select a recording area.

Before you go any further, select an area to record. In that case, launch the TV show then drag the cropper inwards/outwards to set a recording area. You can also open the drop-down list below the "Select a recording mode" function to choose either Full Screen or Custom mode. With the Custom recording mode, enter the frame dimensions before clicking Lock Aspect Ratio. This method is best if your recording a video for YouTube, Vimeo, Facebook, and so on.
Step 3

Set pre-recording preferences.

If you want to capture the TV show characters' voices, choose a sound output device under the Speaker section. You can also apply voice narrations by selecting an input device under the Microphone section. Another thing, you can add a PIP effect by choosing a camera under the Webcam menu list.
Now press the Settings button to select the output format as MP4, FLV, or AVI. You can also set the frame rate, output quality, destination folder, and the recording timer.
Step 4

Start recording your desktop screen.

Are you set to begin recording? Click the REC button to commence the process right away. Now proceed to launch the recording taskbar and click the Annotation button to add texts, shapes, lines, and drawings. You can also pause recording, mute or unmute audio, and close/open webcam recording. Click Stop to finish recording. That's it!
Conclusion
Depending on the method you choose to record OTA TV shows and movies, the hardware set-up and configurations may vary. Nevertheless, using a PC along with an efficient screen recording application like Wondershare UniConverter is still a cheaper approach as compared with buying an external hard drive, using a USB drive with limited storage, or getting an expensive DVR altogether.