Which Is The Best HD TV Recorder in 2021
Digital TV recording devices are a great product to record online HD content or save your favorite TV shows for future viewing when you're not able to watch your programe TV live. These devices can also help you to stream live TV shows and view your saved HD records over and over again.
While these are a great product, selecting the best HD PVR recorder can be a challenge since there are thousands of digital TV recording devices out there. Fortunately, we have chosen the top 6 HD TV recorders in 2020, so you don't have to sort through the monster list or try out many different HD TV recorders to select the best. We are going to show you the best HD TV recorder for Windows and macOS as well as the other 5 HD Recorders for TV shows.
Let's get started!
Part. 1 Best HD TV Recorder for Mac and Windows
The best HD TV recorder we recommend for Mac and Windows is Wondershare UniConverter (originally Wondershare Video Converter Ultimate), due to its amazing and easy to use features. Wondershare UniConverter is a wonderful screen recorder, file converter, and video editor that let you capture live TV program, live webcam, gameplay videos, audio, and other activities on your computer screen for future viewing. This HD recorder also gives you the ability to record online HD content in 15 to 60 frames per second (FPS).
With this HD recorder, you don't have to install a separate video editor as the tool boasts a massive range of tools to edit, refine, or compress your video recordings without affecting its quality. The tool's video editing capability allows you to cut, marge videos, or add special effects and annotations like subtitles or text to your recorded videos for a better viewing experience. It supports over 1000 file formats and can convert files into different file format or export videos in file formats that are supported by other media players like Smartphones, tablets, and the likes.
The tool's file conversion speed is 30 times faster than other file converters. It can cast videos to TV, and convert or download video content from different video sharing sites like YouTube, Vimeo, and Instagram at a very fast speed. What's more, is the intuitive interface that makes it easy to use and the free trial version that makes it one of the best cheap HD recorders for those who don't want to buy expensive HD TV recorder or digital TV recording device.
Wondershare UniConverter- Multifunctional Video Converter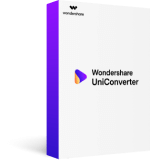 A flexible and easy video recorder with explicit controls on the user interface
Customize the recorded videos as per your requirement.
Convert the media files to the desired format to overcome compatibility issues with other gadgets that you share in the future.
Overall, it delivers impressive performance when you are working on it.
Supported OS: Windows 10/8/7/XP/Vista, macOS 11 Big Sur, 10.15 (Catalina), 10.14, 10.13, 10.12, 10.11, 10.10, 10.9, 10.8, 10.7, 10.6.
Security Verified,
5,481,347
people have downloaded it.
How to record your programe TV live with Wondershare Uniconverter:
Step 1.

Download, install, and run Wondershare UniConverter.

If you don't have Wondershare UniConverter on your PC, visit Wondershare's official website to download and install the software on your PC. After installing the tool, run it, and click on the Screen Recorder tab at the left of your screen. Click on the down arrow icon beside
, select Screen Recorder to open the screen recording window where you can capture and make HD records of your PC screen.
Step 2.

Find the HD TV content to record.

Open your live TV app or log on to your streaming service using your web browser, find and select the HD TV content you want to record.
Step 3.

Set your recording preferences.

Go back to the screen recording window of Wondershare UniConverter and select the area of your screen to capture in your recording. Adjust your video recording preferences in the area labeled ① and click on the Settings icon (the area labeled ②), to adjust other video recording preferences like the frame rate, video quality, record times, and the likes.
Step 4.

Start recording.

Click on the REC button to start recording your HD TV program.
After clicking on the REC button, the software will give you 3 seconds to prepare before the HD TV recording starts.
Step 5.

Stop recording.

If you want to stop recording the TV program or when your live program TV ends, click on the Stop button at the top right corner of your screen to stop recording. You can also press ESC key or Ctrl + F6 to stop recording.

Once you stop recording, a file folder will pop up to display the HD records you just captured.
Part 2. Other 5 HD Recorder for TV Shows
While Wondershare UniConverter is an ideal HD TV recording app for PC, there are other digital TV recording devices (PVR recorders) that connect to your TV and help you stream or record your favorite shows. Some of the best HD PVR recorders on the market today include:
Samsung BD-E8500
The Samsung BD-E8500 is one of the best HD PVR recorders with 3D-ready Blu-ray playing ability. This Freeview HD PVR will not only record your Program TV live, but it will also render Freeview broadcast in 3D. This HDD recorder Samsung house a modest 500GB hard drive and two tuners. This allows you to record two different channels at a time while watching the third if all the channels are on the same Freeview multiplex.
The device comes with smart features like the ability to play content from DLNA network storage, USB, and the ever-expending Samsung Smart Hub app portal as well as BBC, YouTube, Facebook, iPlayer, Twitter, and lots more. You can also use the SmartView app from Samsung to stream TV shows to tablets and smartphones.
Key features:
● On-screen display
● 500GB hard drive
● Dual tuner for recording flexibility
● 3D Blu-ray support with a host of internet and networking features
Sony SVR HDT500B
This Sony Freeview HD recorder is another amazing digital TV recording device that allows you to watch your Freeview HD programe TV live and record up to 300 hours of HD video content on its hefty 500GB hard drive. This HD recorder gives you complete freedom to watch anything you desire, whenever you want.
The device allows you to back up your recorded TV programs to an external hard drive and can also play contents from USB, BBC, YouTube, Facebook, iPlayer, Twitter, and many more. It features a twin Freeview HD tuner that offers the best possible digital HD TV reception for terrestrial broadcasts. This allows you to watch one channel while recording another. Like the Samsung BD-E8500, you can record two Freeview channels at the same time while watching your previous HD records. You can even rewind or pause live TV programs so that you won't have to miss your favorite TV moments.
Key features:
● Watch HD subscription-free content
● 500GB hard drive
● Dual tuner for recording flexibility
● Allows you to back up recorded TV shows to an external storage hard drive
Amazon Fire TV Recast
The Amazon Fire TV Recast is a wonderful but cheap HD recorder and digital TV streaming device from Amazon. This Amazon HD recorder offers numerous ways to find, record, or watch your favorite over-the-air TV shows and episode through your TV or on the go using compatible mobile devices.
With Alexa-enabled devices, you can issue voice commands to your Amazon Fire TV Recast and get it to do things from recording TV shows to playing saved HD records, or asking what the weather is like and more. This Amazon HD recorder comes in two different models - 2 tuners with 500GB storage and four tuners with 1TB internal storage. The version with two tuners can record up to 2 shows simultaneously while the version with four tuners can record up to 4 shows at a time. However, with both versions, you can play content via USB or stream live TV shows and watch on up to two different devices at a time.
Key features:
● Requires no subscription to use
● Record different shows at once
● Stream over Wi-Fi
● 500 GB or 1 TB storage (based on model)
Panasonic DMR-HW220
The DMR-HW220 from Amazon is yet another HDD recorder in the UK that can help you watch live TV programs or record them for future viewing. The device features a massive 1 TB storage drive that is enough to contain a lot of recorded content. It supports playing content via USB or SD cards, and you can also use the device to record to external hard drives.
It can record up to two different channels at a time, and you can upscale its SD broadcasts to 1080p quality via an HDMI cable. The device can also play media from networked storage as well as Netflix, Skype-calling, Facebook, YouTube, BBC iPlayer, and more. Also, you can use it as a server to stream SD recordings to other connected devices.
Key features:
● Can function as a server
● Can play offline and online TV content
● Dual tuner for flexible recording
● 1 TB hard drive
Icecrypt T2400
Last but not least is the Icecrypt T2400, which is one of the best HDD recorder 2018 and still claim a top position among the best today. The device comes with a massive 2TB hard disk drive, which makes it the Freeview HD PVR TV recorder with the largest storage capacity. It features an elegant and attractive color vacuum fluorescent display and comes with a comprehensively labeled remote controller.
Its two tuners enable users to watch a channel while making the recording of two different channels at the same time. Its HD channel's display picture quality is quite impressive, and the tool can play content from USB flash drive, or export recorded content to an external storage drive.
Key features:
● Time-shift function
● Can play offline and online TV content
● Dual tuner for flexible recording
● 2 TB hard drive
Conclusion
HD TV recorders are great for watching or saving your favorite TV shows for future viewing when you're not able to watch your programe TV live. In this article, we have opened your eyes to the best HD recorder for Windows and macOS and how to use it to record your favorite live HD TV shows. We have also shown you other popular HD recorders with hard drive reviews to help you make a wise choice. If you're in dare need of one, then it's high time you considered your options and supported platforms and chose the right one for you.