Best Ways to Record TV Shows on YouTube TV in 2023
With YouTube TV record process becomes quite simple and absolutely cheap as long as the service is available in your area. Because YouTube TV can be accessed on your web browser, a mobile app, or on any of the streaming devices like Roku, Apple TV, Xbox One, Fire TV, etc., the compatibility of the platform has no constraints whatsoever.
In the following sections, you will learn what YouTube TV is, how to record shows on YouTube TV, what advantages and disadvantages it comes with, and what could be the best alternative if you are giving it a second thought.
Part 1: How to Record TV Shows on YouTube TV
Since the service has its own DVR, you don't need any additional device or storage space to record YouTube TV. All you need to get the job done is either a mobile app, streaming device, or a computer with a web browser and an Internet connection.
Assuming that you have access to the basic elements like a computer with the Internet and a subscription plan to the service in question, the steps are given below explain how to record on YouTube TV:
Step 1: Search the Content
Sign in to your YouTube TV account on your web browser, and use the Search box at the top to search for the TV show you want to record.
Step 2: Record the Content
Click the Add button at the right side of the content you want to record. This would begin the recording, and the content will be added to your YouTube library.
Step 3: Access the Recorded Content
Go to your YouTube TV account, click Library from the top, and click to play the recorded TV show you want to watch.
Pros and Cons
YouTube TV comes with the following pros and cons:
Pros
● Unlimited DVR Storage
Since all the programs are saved to your YouTube TV's Library section that is there on the YouTube's server itself, you don't have to worry about the DVR, storage devices, or their capacity anyway.
● Shows Durability/Availability
After recording shows on YouTube TV, they remain in your Library. And after up to 9 months, they are automatically removed. However, depending on the validity of the show you recorded, it may get erased from the Library before 9 months if it reaches its expiration date.
● Time Auto-Extension
While recording sports, YouTube TV automatically extends the scheduled recording for up to 30 minutes if it detects that the game is taking more than expected time to finish.
Cons
● Expenses
YouTube TV is a subscription-based service. At the time of this writing, it costs $49.99/month, making it one of the most expensive streaming platforms available today.
● Non-Selective Content
At the time of this writing, YouTube TV doesn't allow you to record a single episode of a TV show. When you begin recording, the entire series is recorded. However, this isn't much of an issue as you already have unlimited DVR storage space to save plenty of programs in.
● Uncontrolled Removal
You have no control over the removal of the recorded shows once the threshold duration of 9 months is reached. All you can do to get the series back is to re-record it, which is possible only if the show hasn't got expired and removed from the YouTube platform altogether. Note: You can manually delete the shows from your Library before 9 months by clicking the Remove button that appears next to the title.
Part 2: Best Alternative to Record TV Shows
If you want to record YouTube TV channels on Mac/Win without breaking a sweat, install Wondershare UniConverter. Here you can record live TV stations in full-screen or customized mode. As you capture the TV channel, you can add video overlays or Picture-in-Picture effects (PIP), voice narrations, system audio, and unique annotations like texts, shapes, and drawings. Plus, users can download YouTube content directly on their local storage.
Wondershare UniConverter – Best YouTube TV Recorder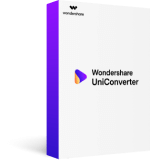 It can record YouTube TV stations in full-screen or customized mode.
Record TV stations with video overlays, voice narrations, and unique annotations.
Preset the output format, frame rate, and quality.
Download YouTube videos with 30x download speed.
Edit the recorded YouTube TV stations by trimming, cropping, merging, adding subtitles, and more.
Convert the recorded video to MP4, AVI, WebM, MTS, MOV, DV, and more.
Best YouTube TV recorder for Mac OS X 10.9+ & Win 10/8/7.
Security Verified.
5,481,347
people have downloaded it.
Below are the steps to record a YouTube TV channel on Mac/Win using Wondershare UniConverter:
Step 1

Open the Screen Recorder function.

Install and run Wondershare UniConverter, then click the Screen Recorder tab. After that, tap the Screen Recorder button to run the screen capture tool.
Step 2

Select a capture area.

Launch the YouTube TV station, then drag the cropper to fit a particular section of the screen. Alternatively, open the Recording Mode menu, then set the capture area as Custom or Full Screen. If you want to record a video in Custom mode, enter the video frame dimensions, then lock the aspect ratio.
Step 3

Configure the input devices and recording settings.

Sometimes you may want to include voice narrations and a PIP effect as you record a video. In that case, choose a mic and a Facecam under the Microphone and Webcam sections. You can also select a sound output device under the System Audio drop-down list.
Additionally, click the Settings menu (gear-like icon) to set the output quality as low, medium, or high. You can also select the target format as MP4, FLV, or AVI. Plus, this app lets you preset the frame rate, folder path, and keyboard shortcuts.
Step 4

Start recording the YouTube TV channel.

If everything looks set to record, click REC to start the recording process. Now open the taskbar, then click Annotations to start adding texts, shapes, arrows, lines, and drawings. After you've captured enough, click Stop. You can now preview and edit the video as you want.
Conclusion
Even though YouTube TV record doesn't require any DVR device and also offers unlimited storage space, the recorded shows last only for up to 9 months. Compliments to Wondershare UniConverter that allows you to save the recordings on your PC for as long as you want without any additional subscription plan or data expiration threshold.