How Can I Change the Video Frame Rate in Batch
Part 1. What is Frame Rate
The frame rate is the number of consecutive frames which are displayed every second on the video. The unit for frame rate is fps and more the frame rate; more is the accuracy of motion which is recorded. Low frame rate produces a smaller file size of output videos, thus consuming less disk space. Higher frame rate, on the other hand, consumes more space but gives out a better video quality than the lower one. The most common framerate used is 24 fps, as it produces a decent video output. However, if the output required is specific, changing frame rate accordingly is necessary, depending on the specific requirements.
Part 2. How to Change Frame Rate
Before you start to change frame rate, adjust or fix it, you need to be well aware of the fact that actual video frame rate displayed is largely dependent on your computer's hardware capability. Even though it's common practice to increase video frame rate in order to enhance the video quality, but this will only work up to a certain point. Plus, there's something that comes with it as well - larger file size. So if you wish to fix video frame rate, Wondershare Video Converter Ultimate will prove to be the best option.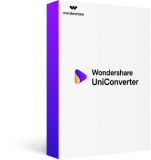 Converts files 30x faster than other converters.
Convert to Over 150 Formats Including 4K/3D.
Change frame rates for your videos in batch.
Edit, enhance & personalize your videos file.
Download videos from 1000+ video sharing sites.
Easily record streaming online videos.
Burn and customize your DVD with free DVD menu templates.
Streaming Your Media to TV.
Supported OS: Windows 10/8/7/XP/Vista, Mac OS X 10.11 (El Capitan), 10.10, 10.9, 10.8, 10.7, 10.6
Steps to change frame rate with Wondershare Video Converter Ultimate:
Step 1

Select files to adjust video frame rate.

Launch the software and drag or select the files for which you wish to convert frame rate. Next, click the Settings icon on the lower right corner. If you have more than one video file for which you need to fix frame rate, you'll be delighted to know that you can do them all at once, basically in batch.

There's the inclusion of the Edit button coming in handy for you as well if there's any editing that you would like to do before changing, adjusting, fixing or converting the video frame rate.
Step 2

Change video frame rate

The drop-down menu of the Frame Rate has a decent selection of frame rates that you can choose from with 12 fps to 30fps frames per second. You can increase frame rate or decrease frame rate as per your requirements. Once you've decided on the suitable frame rate, just click OK button and then the Convert button.
Tip: If you have previous experience of either increasing or decreasing the video frame rate, you'll probably notice that there's a possibility of risking the quality of the original video file after a conversion. However, there is absolutely ZERO quality loss if you choose to adjust, fix or convert frame rate with the Wondershare Video Converter Ultimate. So, you'll be rest assured that there won't be any playback issues or incidents where the audio doesn't match the video scene after you have converted the frame rate.
Step 3

Convert video files (after changing frame rate)

While the converter is changing the frame rate of your video files, you'll be able to view the progress of the conversion as displayed in the screenshot below. You can also choose to cancel it any point during the conversion if you change your mind. The conversion process literally finishes even before you realize it.
Part 3. Introduction to Different Frame Rates
There are different types of frame rates and information about the usage of each type.
24p:

24p is a frame rate commonly used for videos which have been converted from a film. Most of the motion picture films are shot at 24 fps so that they can be converted to DVD and still be retained in the 24 fps format. 24fps videos offer a greater portability convenience as well as save a lot of storage space. It is said to be the best format to be shot in if the content has to be put on an international digital platform.

25p:

25p is an fps format which is popularly used in places like U.S, Canada, Brazil and other few countries where the power grid is likely to run at 50hz, which is suitable for equipment recording and smooth video playing at 25fps. This fps format is optimal only for the given specific countries and not very suitable if the content has to be broadcasted on an international level.

30p:

While recording in countries like U.S and Canada where the 60hz standard is followed, the 30p frame rate is the best. It is a faster framerate than 24p and 30p and is a good video match for computer monitors. The only problem with the 30p format is that there are many portability issues with it when compared to the 24p format.

60i:

60i fps is 60 fields per second as it does not capture the entire frames. In short, it captures 60 half frames per second. This might make it feel similar to 30p, but it is not as 30p video. The frame gives out a better resolution and 60i video is better for shooting fast actions like sports or other action scenes.