DVD Tips
1. Convert to DVD

+

2. Tips for Playing DVD

+

3. Convert DVD to Video

+

4. Other DVD Tips & Tricks

+
[Solved] How to Play DVDs on Wii Easily
Can the Nintendo Wii play DVD movies? --- As asked on Quora
Released by Nintendo, the Wii is a home video gaming console that is quite popular among gaming enthusiasts. The console comes with some amazing features and functions like the Wii Remote controller, WiiConnect24, and others, which make it better than other brand consoles available in the market. In addition to playing games, you can also use the Wii U to play DVDs. The console does not support playing the disc directly, but there are other ways round for the same. So for the question on does the Wii play DVDs, the answer is yes, but not directly. Read below to get the best solutions on how to play DVD on Wii.
Watch Videos to Learn What Kind of Formats Does A DVD Player Support
Part 1. Free and Risky Way to Play DVDs on A Wii via The Homebrew Channel
Does the Wii play DVDs? Though the official site of the device says "No" to this question, using The Homebrew channel, you can play your disc on this glowing blue drive. This method is designed by the team of Wii coders, which provides the option to the users for unlocking Wii and playing their DVDs. Using this solution, you need to download the homebrew video player which is also known as Wii unlocker, copy the file to the SD card and then use the Channel to apply the 2-second patch. Once the patch is up ad runs, you need to open the Wii Mplayer app from the Homebrew channel, insert the disc and let Wii play DVD.
What you need:
Though the method of Homebrew Channel seems to be simple, certain requirements need to be fulfilled before proceeding with the actual steps.
A Nintendo Wii console with system version 3.2
A FAT/FAT32 formatted SD card below 2GB as Wii cannot read SDHC cards
An SD card reader/writer (alternatively, you can also use a USB device that works as one).
The Legend of Zelda: Twilight Princess for Wii
The Twilight Hack. It is a modified Zelda game that runs the Homebrew Channel Installer)
A Homebrew Channel Installer
Media Player which is compatible with playing commercial DVDs(MPlayer)
DVDX app which allows Wii to read the inserted DVDs
Steps on how to watch DVD on a Wii/Wii U via The Homebrew Channel:
For this method to work, there are two main steps- installation of the Homebrew Channel and installing the DVD player.
Step 1: Install the Homebrew Channel.
1. Insert the SD card into the slot of the reader and copy the "private" directory of the Twilight Hack on your card. Here you also need to copy the Homebrew Channel "boot. dol" file.
2. Next, insert the SD card in the Wii and then delete the saved Zelda file on Wii File Manager. If you do not have the game already, you can start a new one.
3. There come two versions of the Zelda- RVL-RZDE-0A-0" or "RVL-RZDE-0A-2. Though both these versions work, you need to check and apply the correct hack. For example, RVL-RZDE-0A-0 works with TwilightHack0, while RVL-RZDE-0A-2 is compatible with TwilightHack2. Both are available in the package.
4. Next, move to the file manager and then switch the SD view. Now copy the correct version of the hack.
5. Finally, insert the game disk of Zelda, start the game, and then save it. After the Homebrew Channel installer starts, you can enjoy playing your DVDs.
After the process is complete, you can access the Homebrew channel like any other Wii program.
Step 2: Install the DVD Playback program.
1. Once HBC is successfully installed, you now need the installation of a third-party DVD player, which will allow you to play your discs on Wii consoles.
2. On your SD card, find a safe space and where you can install and copy the third party DVD player app.
3. Insert the SD card in your console and start HBC. You will have access to the two programs which are present on your SD card. Next, run the DVDX installer app. Select the "Normal installation" as it ensures the smooth running of the program without any issues.
Step 3: Play DVD on Wii.
1. Go to HBC and select MPlayer.
2. Select DVD-Video and then choose the Title.
3. Finally, play your desired DVD.
Though the Homebrew Channel converts your gaming console into the Nintendo Wii DVD player, there are risks and limitations involved. First of all, the MPlayer app has a lot of bugs and issues due to which you may not be able to play all the movies. Above all, if anything goes wrong with this method, it will result in bricking of the console.
Part 2. [Recommended] Best and Safe Solution to Use Wii to Play DVDs Smoothly
Can Wii play DVDs without any limitations or risks? The answer to your query is "Yes." Using good and professional software allows you to convert DVD to Wii compatible formats, which can be played on the console without any risk to brick your Wii. Wondershare UniConverter (originally Wondershare Video Converter Ultimate) is one such excellent program that facilitates converting your DVD videos to Wii compatible formats, which can then be copied to the console for playback. It supports more than 1000 formats for converting your files to the desired video or audio format. Device-specific conversion is also supported for all popular models, including Wii, PS3, PS4, Xbox One, Xbox 360, and others.
Wondershare UniConverter - All-in-one Video Converter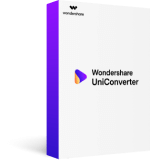 Convert DVDs to Wii/Wii U supported formats and play on Wii devices smoothly.
Edit videos with trimming, cropping, rotating, editing subtitles, adding watermarks, etc.
Burn videos to DVD with free menu templates in different themes.
30X faster conversion speed than common converters with unique APEXTRANS technology.
Support 1000+ video and audio formats for conversion, including MP4/MOV/MKV/AVI/WMV/MP3/WAV, etc.
Download or record videos from YouTube and other 10,000+ video sharing sites.
Transfer videos from computer to iPhone, iPad, and other devices directly and vice versa.
Versatile toolbox: Add video metadata, GIF maker, video compressor, image converter, and screen recorder.
Supported OS: Windows 10/8/7/XP/Vista, macOS 11 Big Sur, 10.15 (Catalina), 10.14, 10.13, 10.12, 10.11, 10.10, 10.9, 10.8, 10.7, 10.6.
Security Verified.
5,063,901
people have downloaded it.
Steps on how to watch a DVD on Wii using Wondershare UniConverter:
Using this method is not only safe and secure but also ensures lossless quality conversion at a fast speed. The software works on Windows as well as Mac system and also supports editing videos with its built-in video editor. Download and install Wondershare UniConverter on your PC/Mac first, and follow the steps below to convert DVDs to Wii. Please note that the DVDs should not be copyright protected.
Step 1

Launch Wondershare Wii u DVD player and load DVD files.

Launch Wondershare UniConverter on your PC/Mac after installation. Insert the desired DVD into your computer. From the main program interface, select the drop-down icon at the
option from the Converter tab. Select the title of the inserted DVD. A new pop-up window will open from where you need to choose if you wish to add all the movies on the DVD or the main ones only.
Step 2

Choose the Wii compatible format.

After DVD files are loaded to the interface, open the drop-down menu next to the Output Format: option. A drop-down list will open up, from where you need to select Device > Games > Wii. You can also edit the subtitles from the DVD video
Step 3

Convert DVD to Wii compatible videos and play back smoothly.

Select the destination folder on the PC where you want to save the converted file by clicking the File Location tab. Click the Start All button to start the file conversion process.
Once the conversion process is complete, copy the file to your SD card, and insert the same into your Wii/Wii U console and enjoy the videos.
So for the queries on the Wii U can play DVDs safely without any risk of damaging the gaming console, the answer is yes when Wondershare UniConverter is there.

Tips
Part 3. Extended Knowledge: Best Selling Wii Game Consoles in 2022
There are many models for Wii with different types of equipment, controllers, and games available. You can purchase the console as well as bundled accessories from Amazon as it has the widest options. To help you make a choice, we have selected the best selling Wii Game Consoles for the year.
1. Nintendo Wii Mini Red Console with Mario Kart Wii Game - Limited Edition
This is a limited edition Red Wii Mini Console- Mario Kart Bundle. The pack comes with a gaming console, a Wii Remote Plus controller, Sensor Bar, Power adapter, composite cables, and a Nunchuk controller. The model is compatible with playing more than 1300 Wii games and has the Mario Kart Video game included.
2. Nintendo Wii Console w/Skylanders Giants Starter Pack
This is a blue Wii console that comes along with blue colored Wii remote. The device measures 15 X 5 X 10 inches in size and weighs around 13 pounds. The model supports many games in which you can enjoy playing with your buddies.
3. Nintendo Wii U Console - 32GB Black Deluxe Set
The model comes in black colored Wii U gaming console that has 32GB of internal storage. Measuring 14 X 5.5 X 11.8 inches in size, the device weighs around 9.1 pounds. The Wii U lets you enjoy the whole new gaming experience and comes with a GamePad controller. The console controller, as well as the GamePad controller, can connect wirelessly to the console as well as TV sets.
4. Nintendo Wii U 32GB Mario Kart 8 (Pre-Installed) Deluxe bundle
This Wii gaming Deluxe Set comes in a package including Wii U hardware with 32GB internal storage, GamePad, Sensor Bar, GamePad stylus, Adapter for console and GamePad, GamePad stand, HDMI cable, Console Stand, and Wii U GamePad Cradle. The console comes pre-installed with Mario Kart 8 so that you do not have to install any physical disc. It also includes a Nintendo eShop download card that is valid for two packs of bonus DLC. Additional contains six new characters, 16 new tracks, and eight new vehicles.
5. Nintendo Wii U Deluxe Set: Super Mario 3D World and Nintendo Land Bundle - Black 32 G
With this Super Mario 3D World Deluxe Set, you get a gaming console with 32GB memory, GamePad, adapters for console and GamePad, stands for console and GamePad, HDMI cable, and pre-installed Super Mario 3D World Game and Nintendo Land. The device comes in black color and also has GamePad Cradle. There is 6.2 inches of LCD touch screen with a 16:9 aspect ratio, and it features button controls and also comes with two analog sticks.
6. Nintendo Mario Kart 8 Deluxe Set with DLC Wii U Bundle
This is an exclusive limited edition of the device that comes with Wii U hardware having an internal storage of 32GB. The Mario Kart 8 game comes pre-installed in the device. The Mario Kart 8 games have an "E" ESRB rating, and it comes with comic mischief. The kit comes along with gaming console, console AC Adapter, GamePad, and its adapter, high-speed HDMI cable, Sensor bar, GamePad cradle, and stand for console and GamePad.
7. Nintendo Wii Console, Black
This is another popularly purchased model that comes with black colored Wii console, Wii Remote, Sensor Bar, AC Adapter, AV cable, Nintendo Nunchuk. The device allows you to connect up to 4 Wii Remote Plus controllers at a time using the Bluetooth powered built-in wireless technology. The motion control technology of the device makes it interestingly interactive. The Wii Controller also has a sensor that facilitates selecting menu preferences, activate games, and even scroll through the screens.
8. Wii Bundle with Wii Sports & Wii Sports Resort – White
This Nintendo Wii Gaming console comes in White color and offers excellent, engaging experience. It comes along with Wii Remote Plus White, Wii Sports and Wii Sports Resort, and White Nunchuk. With the Wii Sports Resort, enjoy the improved intuitive controls and unlimited fun. The Wii Motion Plus offers deep controls for adding to your overall gaming experience.
9. Wii Black Console with New Super Mario Brothers Wii and Music CD
This Wii Bundle comes packed with a Black colored Wii gaming console, New Super Mario Bros Wii, Wii Remote Plus, Nunchuk, and Super Mario Galaxy 2 soundtrack. This model of the gaming console allows you to easily connect your device to the Internet with its built-in WiFi access. The Super Mario Bros. Wii allows 1 to 4 players to enjoy the game at a time. The game is available in English, Spanish, and French language. The music for the game is created by many musicians to enhance your overall experience.
10. Wii Hardware Bundle – Red
This Wii gaming console in red color is just perfect for the ones who want something interesting not only in games but also in looks and colors. The model comes bundled along with Red Wii Remote Plus, Red Nunchuk, Wii Sports, and the New Super Mario Bros. Wii game pack. This game with a rating of "E" enables 1-4 players to enjoy at a time and is available in Spanish, French, and English language.
Thus it can be concluded that the best method to enable Wii u play DVD is by converting your disc files to a compatible format using Wondershare UniConverter. The solution is simple, easy, and has no risks involved.