Subtitles are captions found at the bottom of an object that transliterate the speech of the characters. To assist in making subtitles, we collect 10 useful subtitle makers for your reference.
Edit, enhance and personalized your videos, including trim, crop,merge, rotate videos, add subtitles, etc.
Convert videos to over 1000 formats, including MP4, AVI, MOV, MKV, WMV, etc.
Convert and copy your home DVD, edit DVD files and burn DVD discs with just one-click.
Versatile toolbox combines fix video metadata, GIF maker, cast video to TV, VR converter and screen recorder.
Supported OS: Windows 10/8/7/XP/Vista, Mac OS X 10.12 (Sierra), 10.11, 10.10, 10.9, 10.8, 10.7, 10.6.
Security Verified,
5,942,222
people have downloaded it
Subtitle Edit is very efficient in creating, adjusting, synchronizing, and translating subtitle lines. With this freeware program, you can readjust subtitle if it is not synchronized and make new subtitles from the timeline or waveform or spectrogram. This masterpiece can work in 170+ subtitle formats and is available in almost 30 languages.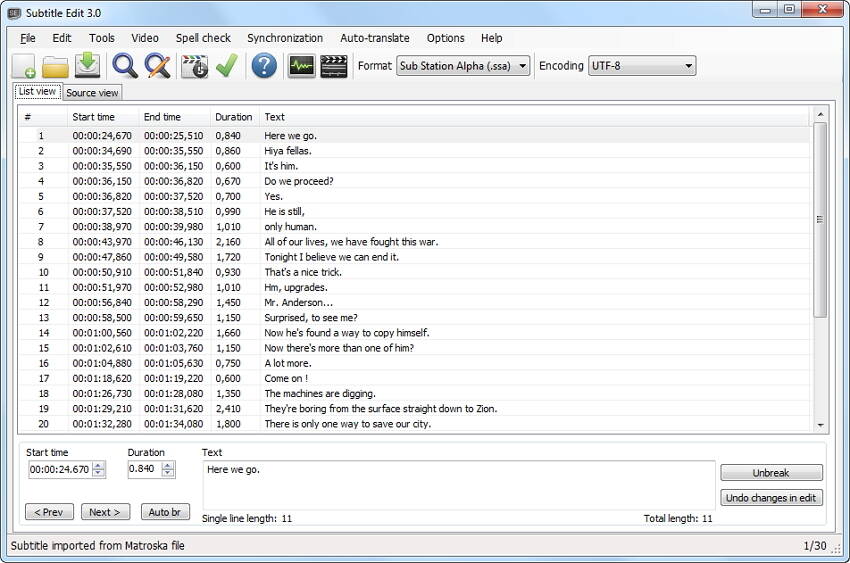 This subtitle maker is one of the best supporters for SRT and SSA/ASS subtitle formats. Audio waveform representation is the foundation of this subtitle program. Besides, it will allow you to check for errors, get network suggestions, and use the speed indicators which can surely improve the superiority of your subtitles.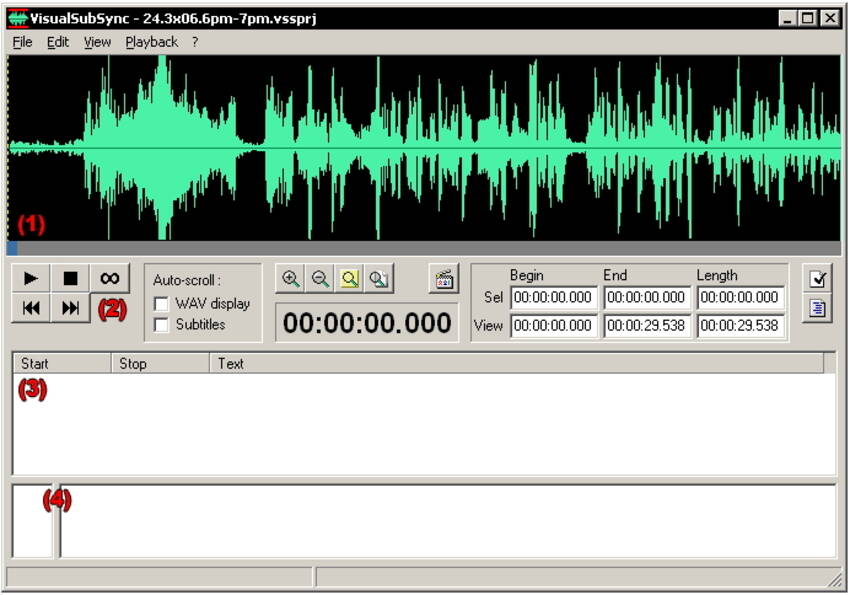 As it can be supposed from the name, Subtitle Workshop is one of the most facilitative subtitle making software in the sense that there is no such format and feature that you will not find in it. You can get user-friendly interface, reading & writing engine, customizing tools, spell checker, fixing tools, text & time related operations, video preview (and anything else you might want) in one place. It's a one-stop service provider.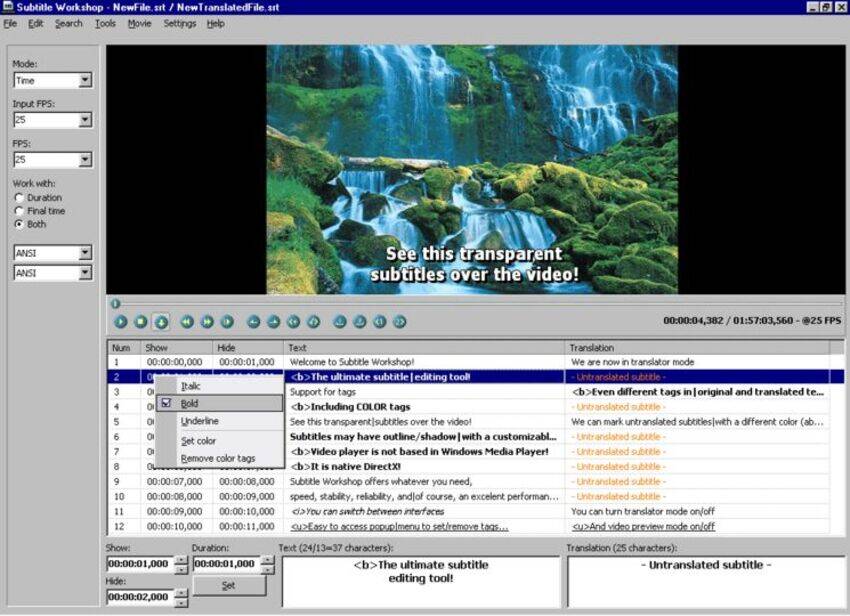 If you are thinking of creating new subtitles for DVDs that you don't own the copyright, this program may be found as one of the powerful subtitle editors in your list. This subtitle maker has a built-in wizard for DVD Authoring that will let you overlay current subtitles on the top of the DVDs. You can add subtitles in just one go without losing the originality of the DVD menu. Additionally, it features DVD preview, shift/change color, synchronization, WYSIWYG editor, tagging etc.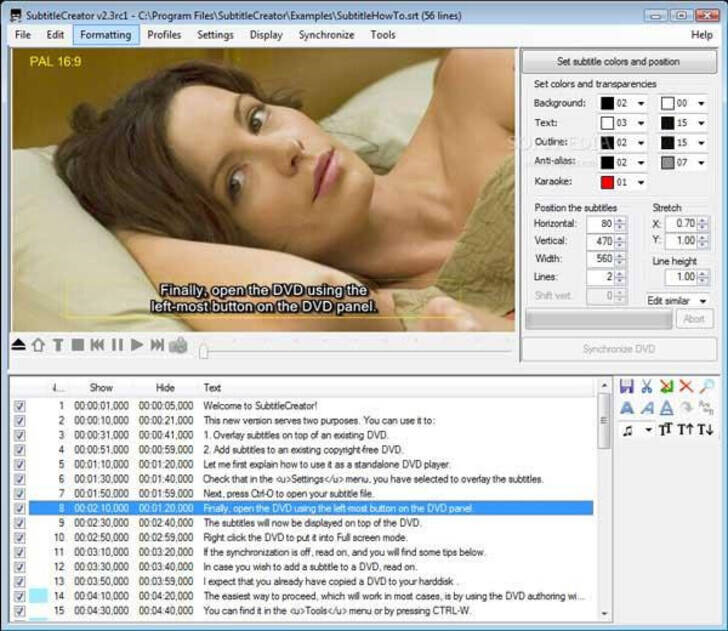 Aegisub Advanced Subtitle Editor is of great assistance in the creation of movie subtitles using audio or video. Aegisub is one of the cutting-edge technology subtitle editors which performs in cross-platform. This advanced performer supports translation in almost 30 different languages while timing the subtitles to audio and video is made swift & speedy. Aegisub Advanced Subtitle Editor has 3 different forms for 3 different operating systems – Windows, OS X, and Unix.
DivXLand Media Subtitler is one of the best to create, edit and fix external subtitle files for all types of videos. It is suitable to create subtitles from plain text files. DivXLand Media Subtitler designed to assist you with instant preview, basic text formatting, multiple subtitling modes, multi-language spell checking, importing & exporting subtitle formats, keyboard shortcuts for functioning, automatic caption timing etc. This program supports formats like Adobe Encore, SAMI, DKS, JACOSub 2.7, OVR Script, SubViewer 2.0, ZeroG, FAB Subtitler and more.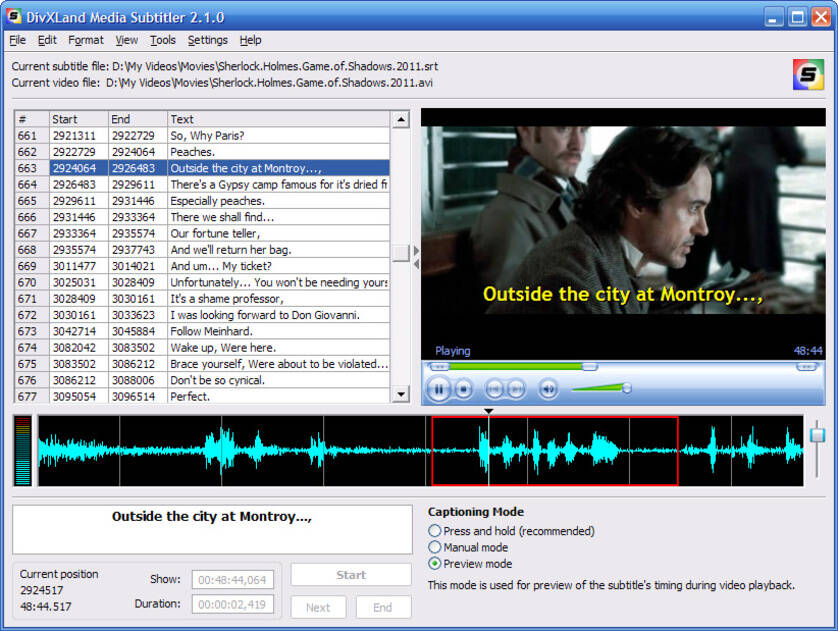 WinSubMux can covert subtitles to selectable SVCD or CVD subtitles. This program was developed with lots of features, including Graphical User Interface, multiplex all streams in one step, save SUB file, SVCD file scan, time shifting, subtitle bitmap palette modification etc. It is suitable for large subtitle images.
8. Subtitle Editor
Subtitle Editor is a great subtitle making software that can edit, split, joint & translate subtitle for GNU or Linux or *BSD systems and featuring undo/redo, drag-and-drop, GStreamer, preview with external video player, sorting subtitles and many more. This GTK+2 tool can work with formats like Adobe Encore DVD, Spruce STL, BITC, TTAF, Plain-Text etc.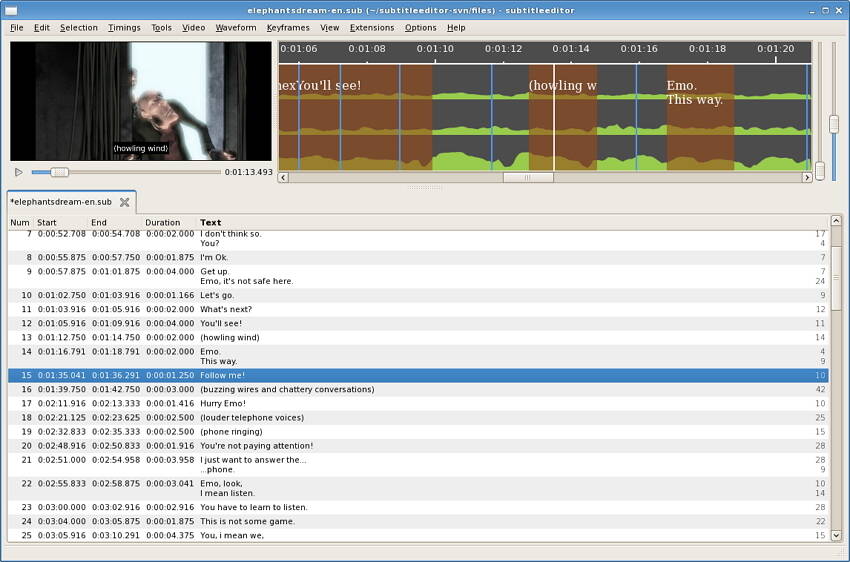 AHD Subtitles Maker is a complete solution to subtitling issues. It is the best subtitle maker if it is used for text based subtitle formats that can be transmitted as a single file. Using this professional tool, you can automatically create subtitles in the most accurate and efficient way without even the use of scripts. AHD has integrated a program known as AHD id3 tag editor to edit and save ID3 Tag versions 1 and 2.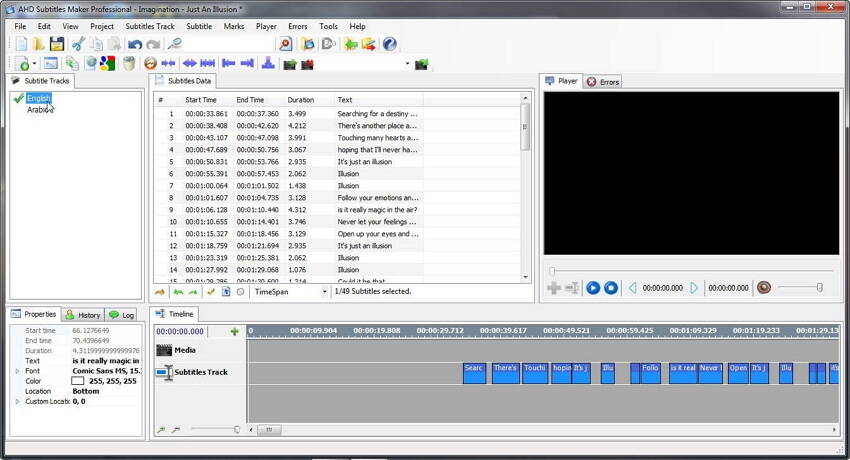 10. SubEdit Player
Using SubEdit Player, you can add subtitle tracks with so much ease. Writing the subtitles directly or even importing them from any external sources like Internet or any specific program have made this program a more comprehensive subtitle maker. SubEdit Player supports formats including WMA, WMV, WAV, DIVX, VOB, M1V, MID, AC3. ASF and many more.