Subtitles are basically the lines shown at the bottom of a film or TV screen to interpret what the characters are saying in real-time.
But why are subtitles necessary? Here's why! What if the movie you want to see isn't available in the language you want to watch it in?- Only by translating the subtitles into your native language or a language of your choice will let you enjoy the movie.
For that purpose, you require an Online Subtitle Translator, which won't make any mistakes because one wrong interpretation can ruin your whole movie. In this article, you'll find some of the finest online subtitle translators available for free to ease out your quest. Let's get started!
Watch Videos to Learn How to Add and Edit subtitles Easily
KwiCut
Transform Long Videos into Short Ones Instantly
Turn long videos into viral clips. Effortlessly transform lengthy videos into engaging, shareable clips.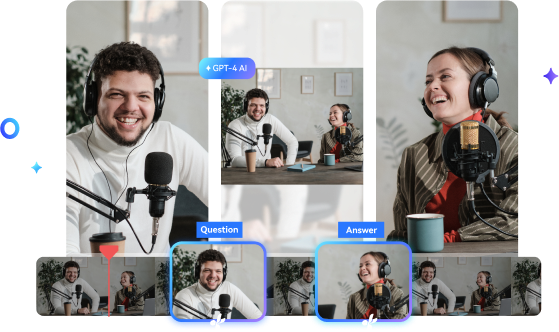 Part 1. Best 6 Online Subtitle Translator for Free
You may translate subtitle text to practically any language using online translation tools, including French, English, Hindi, Hebrew, Italian, Croatian, and others. Almost all available online tools make it relatively easy to translate subtitle language.
However, since many online tools are available, finding an excellent subtitle translator online is challenging. But this section has got you covered because it covers six of the best online subtitle translators.
Subtitles Translator is a free internet translation service that transforms subtitle files' language. With this website, you can convert one subtitle file at a time. In this tool, the Google Translate service translates a subtitle if the original language is not English. You can use it to convert a subtitle file into various languages, including Danish, Dutch, English, Hindi, and Hebrew, among others.
In addition to being a competent subtitles translator online website, Subtitles Translator also enables customers to employ a variety of language translation services to convert subtitle files from one language to another. If you wish, you can change the subtitle text after the language translation has been completed. Moreover, the in-progress subtitle files can be downloaded using the Inprogress function. The files you've downloaded from this website can be uploaded again to edit in the subtitle editing process from where you left off.
Pros
Utilizes google translator
Converts one language to other
Subtitles Translator only accepts SRT files for online subtitle conversion, and it does not support any other formats. You can use this page to upload an SRT subtitle file from your computer, pick the From and To languages, and begin translation. The SubtitlesTranslator has the most straightforward and easy-to-use interface that allows beginners to translate their subtitle files easily. SubtitlesTranslator allows you to change the language of the subtitle file to other languages such as Hebrew, Greek, Hindi, French, Arabic, and so on.
SubtitlesTranslator allows you to see the translated subtitle on the website rather than downloading it. It is, once again, one of the easiest internet subtitle translators available online. Moreover, this online translation tool also uses the Google translation service if the subtitle file's language is not originally English.
Pros
Translates to multiple languages
View the translated subtitle before downloading
VEED.IO Subtitle translator helps you make your videos accessible to a global audience by automatically translating them online. It comes with an automated transcription tool with a 95% accuracy rate and enables you to modify the text translation as you go. You can either add your translation as subtitles to your movie or download the translated text as a TXT file to your device for offline viewing and editing.
You have the option of translating your subtitle files into English, Spanish, French, Chinese, and more than 100 additional languages. It is far more efficient and less expensive than hand typing subtitles or transcriptions. And it's straightforward to use.
To translate the subtitles, simply post a video, have it automatically generate subtitles, and then translate it into any language with simple clicks. Moreover, after obtaining the subtitles from the Veed.io translation tool, you have the option of either downloading the SRT file or burning the translated subtitles to a video.
Google Translate services power online Subtitles Translator & Editor by Akbar is a subtitle translation website. You can simply drag and drop an SRT file onto its primary interface. Select the FROM language from which you want to translate. Alternatively, you may leave the selection to Auto Detect. The subtitle text is automatically translated when you pick the To language. You can utilize it to convert a subtitle file into various languages, including Danish, Dutch, English, Hindi, and Hebrew.
Because even the best automatic translations aren't always spot-on, you have the opportunity to go in and manually adjust the subtitle text. With this tool, editing is as simple as hovering your cursor over a piece of text and pressing the Edit button. Once the subtitles are generated, you'll see a pop-up window where you can make changes to the text. The translated subtitle file can be downloaded after clicking on Save as an option.
Translate-Subtitles is just another free online subtitles translation website utilized for subtitle translation. You can use it to convert the default subtitle language into other languages such as Hebrew, Greek, Hindi, French, Arabic, etc. It uses the Google Translate tool to carry out the language translation, which speaks a lot about its efficiency.
Aside from SRT, it can also change the language of subtitles files such as ASS, SUB, VTT, STL, and other similar formats. To alter the languages of the subtitles, this site, like other websites, uses Google Translate to accomplish this task. After converting the subtitle language, you can change the converted language if you so choose.
Pros
Supports multiple languages
Edits after generating subtitles
Cons
No simultaneous translation
SubtitleEdit Online is a free online tool that you can use to translate subtitles into other languages. In addition to changing the transition language, this website allows you to synchronize subtitles with the movie. Additionally, it helps you edit a subtitle file.
Using this online subtitle translation tool, you can use Google Translate or Microsoft Translator to convert the subtitle file's language. To add the subtitles using SubtitleEdit Online, simply upload the video, select From and To language, and you'll get your subtitle file in the preferred language. Moreover, subtitle files can be saved in various formats, including STL, XML, TXT, SUB, and MPL.
Pros
Google and Microsoft translator
Part 2. Best Subtitle Editor for Mac to Add/Edit Subtitles after Translation
Have you been searching for a Mac Subtitle Editor? If so, Wondershare UniConverter can be your choice! Utilizing Wondershare UniConverter, Mac users can import .srt files into MP4, QuickTime, and a slew of additional formats. You can utilize this software's built-in search feature if you're stumped when it comes to locating subtitles for your movies or videos. In addition, Wondershare UniConverter for Mac has a fantastic feature that can automatically identify subtitles for your films.
Security Verified.
3,591,664
people have downloaded it.
It allows you to create subtitle files and add them to the mp4 files
You can customize the font of the subtitle file using this tool
It comes with an auto generator that generates the subtitles in 100+ files with 100% accuracy
It helps you add the subtitle files to your videos with a simple click and no size limitations
You can use it to convert text to an SRT file in an attractive font with simple clicks
Before beginning with the add subtitles step-wise guide of Wondershare UniConverter for Mac, download and install the software to your PC. After that, follow these instructions:
Step 1

Launch Wondershare UniConverter

Launch Wondershare UniConverter on your PC, and go to Toolbar. After that, click on the Subtitle Editor option.
Step 2

Upload the Video and Subtitle File

Navigate the video you wish to add subtitles on and click on Load for uploading it. Once the video is uploaded, click on the Import Subtitle File to upload the .srt file to add to your video.
Note: If you're stuck on where to look for the proper subtitle file for your movie, use this tool's Search Subtitles feature. Use it to discover subtitles for your videos.
Step 4

Edit Subtitles

After uploading the subtitle file, start editing it. You can customize the Outline Width, Transparency, Font, and Position of the subtitles in your video.
Note: The Apply to All option is available if you wish to change the display format of all subtitle lines at once.
Step 5

Export the Video with Subtitles

Once you're done editing, click on the Save option at the bottom left to export the subtitle added video.
Conclusion
All of the tools discussed in this article are completely free to use and perform a good job. Moreover, if you need to add subtitles to the video, we recommend using Wondershare UniConverter because of its easy-to-use interface and customizable subtitle features.