How to Choose the Best Video Transfer Services in 2023
Video transfer service is essential for all of us who want to transfer videos between devices. Many people don't know how to use a video transfer service or which one is the most suitable one for them. If you are also confused about the best video transfer service, then you need to read this article. We have provided the best video transfer service reviews here so that you understand what you need to do in this matter. So instead of wasting time talking about anything else, let's get to business right now!
Part 1. What Is Video Transfer Services?
The simplest way to put it is the services that help you to transfer videos between devices are called video transfer services. So basically, these services can allow you to transfer videos between devices when you need them.
These services are very important for us because we need to transfer videos for various reasons. Be it for professional or personal use, and video transferring is a common thing that almost every phone or computer user does. So there is no doubt about the necessity or importance of all the video transfer services near me.
Part 2. What Should Be Considered Before Selecting Video Transfer Service?
Before you ask about the best video transfer service near me, you need to know about the important things that you need to consider before selecting a video transfer service. So here are those facts for you:
Services Range
The first point that you need to consider is the type of home movies that you need to transfer. It may get confusing to you if you don't know about these terms. Some of the formats that include Beta, VHS, VHS-C, Hi8, MiniDV, MicroMV, Digital8, 8MM, and PAL, etc. are just a few of the formats that require different instruments for conversion. So you need to make sure that the service you select supports your desired format.
Data Safety
Data safety is a significant factor while using a video transfer service. The best video transfer service will always ensure your precious data safety while providing you with outmost no data loss care. So you need to make sure that the videos you send them are carefully handled, and they don't get lost while being digitally converted.
Previous Customer Reviews
Previous customer reviews are a crucial fact to consider if you want to use an excellent video transfer service. A good service will always have great previous customer reviews. You can check those reviews on their website, Facebook page, or through an online search. Only then, you can most probably be in good hands.
Trustworthiness
Trustworthiness is something that is an essential point for considering a video transfer service. You need to make sure that other brands also support the service you are using. You also need to check how many years they have been around in the industry, are they experienced or not, etc.
Output File Format
Another thing to consider for you is the output format that you prefer for the videos you are using the service for. There are many options that you can consider, including Blu-ray Discs, DVDs, Data DVDs, external hard drives, or flash drives with different file formats to choose from, such as MP4, MOV, AVI, and others. So you need to make sure the digitized file type or the output format works for you. A few companies now offer cloud-based storage for videos, which can also be a good option for you as you can access them from anywhere.
Part 3. How to Transfer Video from VHS to DVD on A Computer
With understanding the factors that you need to consider for choosing the best video transfer service near you, we want to mention software that you can use to transfer video from VHS to DVD on a computer. This software is not only a single tool, but it's a toolbox that consists of various video-related tools you can use to solve your video problems anytime. Wondershare UniConverter (originally Wondershare Video Converter Ultimate)is the all in one toolbox that we are talking about here. It's an ultimate video converting tool with various other options that can solve almost any kind of video-related issue for you. With all the advanced features but easy to use interface, you can consider this toolbox as the ultimate video related software without any doubt.
Wondershare UniConverter - The Best Video Converter for Mac/Win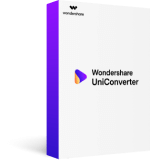 It offers 100% full quality video conversion and supports more than 1000 file formats.
It converts video with more than 30 times faster conversion speed than usual.
It has a video editing feature with advanced video editing options.
It allows users to download or record videos directly from 10000 online websites.
It has a powerful DVD toolkit that will help you to create and edit DVD files easily.
Security Verified.
7,851,625
people have downloaded it.
Things to Consider Before Transferring Videos from VHS to DVD:
You will need a VCR, an adapter unit named as a video capture device to connect the computer and VCR, RCA cable, A Windows operating system loaded computer.
Connect the USB side of the converter to your computer, and connect the three plugs into the VCR. You may also need to connect the adapter with the converter. You'll need software to convert the VHS into DVD format. Then, follow through the recording process of converting VHS files into DVDs. You will find the detailed guideline of using the software on the software website or the Internet. After you get the full DVD version of the VHS tape, then proceed to use UniConverter.
Steps for Using UniConverter to Convert Video to DVD:
Step 1

Download and Add Files

Download and install UniConverter on your computer. Launch the toolbox and add your desired videos to the program by clicking on the +Add Files icon. You can also drag and drop the files into the program interface.
Step 2

Choose Output Format

Then you need to choose the output format of your desired videos from the Setting option at the right side of the program window. You will get a drop-down menu where you can choose the output format like the below image.
Step 3

Convert Videos

Finally, click on the Convert button to convert all the videos to your desired file format. You can find the converted videos on the Finished tab.
Step 4

Burn Videos to DVD

Go to the Finished tab. You can readily click on the Add to Burn List option. Then you can select a DVD template or customize the DVD settings from the DVD Burner tab. Finally, click on the Burn button to start the burning process.
Conclusion
This article is a definite best video transfer service review for you if you can use the knowledge correctly. You need to consider the critical points mentioned here before selecting a video transfer service for you. Also, instead of trusting someone else to do this job, you can do it yourself easily at your computer by using Wondershare UniConverter. It's easy to use, so even if you don't know how to do it, the guideline from this article will help you out.