Top 10 Free Music Video Makers
Recently, there is a large number of professional and amateur artists who are looking for a perfect set of music video maker apps that they can use for preparing their music video. While a larger proportion of people are looking for a free music video maker. After all, who would not love to use freeware that can give better benefits than some of the paid ones!
As a solution to those professional and amateur artists who are looking for some useful free music video making software, we have analyzed and sorted out the top 10 most useful free music video makers out there. Read on and find out the set that would support your needs.
Looking for software that can handle a huge load serially? Allow us to introduce you to Zwein Stein. This non-linear video compositing and editing system is a brilliantly designed freeware that offers some of the most advanced features that are not seen elsewhere.
You can edit up to 256 videos, audios, still image clips, each up to a maximum of 64 effects chained serially. You will love the simple and easy to use interface. It will design things just the way you want it to be. Cropping, panning, and custom effects can be made easily with automatic keyframes.
Perhaps the only drawbacks of this program that keeps it down are: it works slowly when other programs are running, and it does not support external media playing devices.
Summing up the features, this software surely is an amazing creation.

Tips
It has an amazing non-linear video editing feature and the interface is completely a reflection of the professional Avid system. It can capture, edit, clip, process, and output both audio and video just the way you need it to be.
It was built so well that many of the professional competing software did not stand a chance in the competition when it was launched. In fact, Avid Free DV was so popular that Avid Technology decided to close down this program as they felt it was putting up the competition with their own Avid Pro product.
Although Avid Technology had discontinued this software officially, Avid Free DV is still known and used by many of its supporters around the world.
If you are an artist who is looking for easy-to-use software with all the basic features needed to make a music video, this is something you must check out.
Rank 8. Wax
Wax uses the graphics acceleration of the computer's video card for creating superb effects in real-time. Top-down compositing and multi compositing modes can be made on unlimited video and audio tracks. Create fabulous effects with 2D and 3D plugins and transitions. Compose using extraordinary 3D tools and create superb 3D objects, lighting, shadows, text generators, etc. Automate your creation and take it to a whole new level. One of the best features of Wax is that it supports a wide range of plugins for the users to utilize its capability to its maximum level. File input and output can be made through filters. Filter SDK is available for ease of use. The AVI and WAV formats support compressed audio by using Audio Codecs installed on your PC.
The drawbacks that pull Wax down from a higher rank are few but effective. Its inability to deal with the audio pitch and timbre level is the first major drawback. The next one is that it may also become slow in a PC with low configuration because of its wide range of plug-ins.
This free software is built for users who prefer home DJs and music mixing activities. With all the necessary common features for shaping up your music, an easy to understand interface for setting up video just the way you want it to be, and its stylish DJ like appearance – You will absolutely love this software.
You can analyze the beats per minute for you and also perform keys detection for harmonic effects. It has a clip bank for playing video clips; real-time record-and-save features of music into the computer; real-time webcasting of sessions; computer beat grid for virtual mixing; a very intuitive interface.
But there is some tiny incapability of this program: it cannot connect with your music appliances like electric guitar, and keyboard. Plus it keeps on taking disk space as your preferences. If you think that you are comfortable with that, then this is what you are looking for.
Sony has already announced that ACID Xpress software is the free version of its award-winning music creation tool. The ACID Xpress is built to solve all the possible needs of the music creation of its users. This freeware is a 10-track version of ACID software for music recording, editing, and mixing.
It allows inline MIDI editing. Multiple events can be arranged per track. A video scoring track is available. You can insert your voice directly with live audio recording. The punch-in recording feature is available. Encode Unlimited MP3 files. Enjoy the facility of alternate time signature support. You can easily learn how to use the application by using the interactive tutorial "Show Me How". A freehand envelope drawing feature is also available.
Overall, this software is built-in simplicity with all the required components packed up into it.
Use it and create your desired music video just like the way you want.
Although Blender is mainly a 3D creation pipeline, it is also built with very powerful audio and video creating capabilities.
Blender can be used to create maestro level music videos using its Sound Sequence Editor (SSE) which is a part of Video Sequence Editor (VSE). It contains a multi-track Audio sequencing toolbox. The users can add WAV files from the hard disk as a file, or as encoded within a movie, then mix them using an IPO Curve for controlling volume. Voice recording can be done directly to Blender and adjust the pitch and speed level of the file. Blender can adjust the video with it VSE and perfectly set it with the Audio to form a complete music video. If needed, users can even create characters using its 3D creation feature and then use them with the existing video file and audio file to form new characters. Even the mouth movement of the animated object can be synchronized with the audio file by using Blender.
Perhaps the two major drawbacks of using Blender is that it would need a blender expert to create a perfect music video as the program has a very complex interface and it does not support the use of any external devices.
Video FX Music Video Maker is rich in features needed for preparing your Music Video and sharing it out to the world right from your Android device.
The program has built-in audio importer and converter for .aac, .ogg, .wav, and .m4a audio tracks. It has more than 50 effects in total: Film, Ghost, Cartoon, Neon, Cinematic, Stroboscope, Thermal, Mirror, and many others. Simply select the mp3 file on your device or use your microphone. It has the Start Timer feature which will allow you to delay the recording of each clip and give you time to get prepared for recording. The auto pause feature helps you to pause the recording automatically without touching the pause button. The fast forward mode is available. It has a built-in-player for watching your favorite recorded movies. It supports both the front and back camera of your phone/tablet for ease of recording. Plus it has got an amazing intuitive feature that will make you love the way it operates for you. Last but definitely not the least, it allows sharing to YouTube, Facebook, and other social networks with a few clicks.
Summing up all these features, this is surely an app that will attract most of the modern music video makers.
This customized variant of Ubuntu is a tough challenge for many professional competitors out there. With a range of multimedia and content creation programs for audio, graphics, video, photography, and publishing – Ubuntu Studio focuses on the satisfaction of its freeware open-source loving users.
The installer has a plugin that allows the user to choose which packages to install - audio, video, graphics, photography, and publishing. Ubuntu has enabled this feature so that the users do not need to install all the packages. Ubuntu Studio merges Linux low-latency code with Linux generic in order to improve streamlines and abide by all the Linux generic changes more accurately.
Its menu structure works on any desktop environment. It has a live DVD; GUI based installation; low latency kernel installed by default. This variant tailored for and aimed at the GNU/Linux audio, video and graphic enthusiast is absolutely a superb creation by the Ubuntu team.
This amazing free Suite of Apple, built for iOS and Mac comes with the purchase of any Mac or iOS device. iLife is made for dealing with all the multimedia needs of the users. It is a collaboration of some powerful applications that can work out spectacular results.
iLife 2013 contains GarageBand, which allows users to create music or podcasts. Its streamlined digital audio workstation and music sequencer can record and playback multiple tracks of audio. The built-in audio filters use the Audio Unit standard for allowing the user to enhance the audio track with various effects. 16-bit and 24-bit Audio Resolution can be recorded. It tunes system aids with pitch adjustment, which can imitate the Auto-Tune effect after tuned to the maximum. It includes a wide range of virtual software instruments which can be used to create original compositions or play music live by using its "musical typing feature" through the use of a USB MIDI keyboard connected to the computer, an on-screen virtual keyboard, or by the use of a QWERTY keyboard. It has excellent guitar features that can use a variety of simulated amplifiers, stompboxes, and effects processors. You can even connect guitars to Macs using a USB interface or the built-in input. Wide ranges of MIDI editing facilities are available. A huge collection of music lessons are found at the GarageBand's lesson Store. You will find a number of popular songs like Apologize by OneRepublic, Angel by Sarah McLachlan, and many others. Additional add-ons like Jam Packs and MainStage for adding effects through the use of Remix Tools, Rhythm Section, Symphony Orchestra, World Music and Voices, 40 built-in instruments including vintage keyboards, and drum machine are all included into this amazing Application.
After preparing your audio through the GarageBand app, use the iMovie app of iLife to set up a perfect video with your audio. Record your scene using the camera of your Apple device or import pictures from the Photo Book of iPhoto, another app of iLife 2013. After collection of all your raw items in the iMovie, use iMovie's power of video creation for preparing a mind-blowing video. The new iMovie has been refurbished for iOS 7 with a much smoother and cleaner appearance and does not require the users to create a project or edit anymore; they can simply select and tap share their creativity. iMovie allows the user to create fabulous HD movies and Hollywood-style trailers. Its wide range of effects and tools sets its own class in video editing skills. After preparing your music video, enjoy your masterpiece in the iMovie Theater.
iLife 2013 surely is an amazing idea of Apple. But there is one feature that backs it down from the leader of the music video making software. To find out what that feature is, read through the information of the next and the best software we have found from our analysis.
Whether it is about video editing or audio editing - Lightworks by Editshare LLC puts forward something which other companies have never been able to do. Its incomparable cross-platform support and unprecedented flexibility make it a leader in its market and one of the most used programs for some of the Oscar and Emmy award-winning movies like Mission Impossible, Pulp Fiction, Batman, The King's Speech and many others. It holds the widest format support available in any professional NLE, MXF, QuickTime and AVI containers, with almost every format currently available for importing natively without the need for transcoding, from ProRes, Apple ProRes, avchd (with AC3 audio), , Avid DNxHD, AVC-Intra, DPX, DVCPRO HD, RED R3D, XDCAM EX / HD 422, MPEG-2 I-Frame (Both SD and HD), MPEG-2 Long GOP, Image Sequences like BMP, JPEG, PNG, TPA, DPX Compressed TGA, TIF all on the same timeline in real-time. It can also broadcast Wave format with both drop and non-drop frame timecode options.
The versions are built to run on Intel, AMD chipsets and motherboards. Lightworks supports Windows, Linux (Ubuntu, Lubuntu, Xubuntu, Mint, Fedora 19) and is currently developing for Mac OS X as well.
Lightworks is able to accelerate video processing by using the power of the computer's graphics card/chipset. Starting from advanced trimming, media management, stereo vision support, real-time effects including multiple secondary color correctors, fixing audio nodes, timbres, pitch editing, supporting external hardware devices, sharing and uploading to the web, YouTube and Vimeo – it includes every feature needed for making a complete multimedia editorial toolset. And with support for two thousand workflows with real-time effects, Lightworks stands as the most advanced editing application available for over 20 years.
Wondershare UniConverter - Best Video Converter for Windows/Mac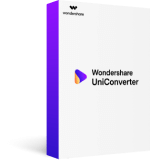 Convert DVD to videos in 1000+ formats without losing quality.
Customize video formats for specific devices such as iPhone/Android devices.
Edit videos with trimming, cropping, rotating, adding watermarks, editing subtitles, and more.
Burn videos to DVD with free menu templates for easy playback on TV.
Download online videos from YouTube, Vimeo, and other 10,000+ sites.
30X faster-converting speed than other common video converters.
All-in-one video tool: video compressor, video converter, GIF maker, screen recorder, image converter, and more.
Supported OS: Windows 10/8/7/XP/Vista and Mac OS 10.15 (Catalina), 10.14, 10.13, 10.12, 10.11, 10.10, 10.9, 10.8, 10.7, 10.6.
Security Verified.
5,481,347
people have downloaded it.

Tips