FLAC to WAV: Top 11 FLAC to WAV Converters You Should Know
Before we start talking about FLAC vs. WAV or FLAC to WAV conversions, let's discuss what FLAC and WAV are. The full form of FLAC is Free Lossless Audio Codec. It is an audio coding format for lossless compression of digital audio. In contrast, WAV is lossless audio and is also a great choice of the audio format used for the audio editing purpose, and the full form of WAV is Waveform Audio File format.
There are many video converters available online in the market to make it easy to convert FLAC to WAV, but today we are here to talk about the top 11 best FLAC to WAV converters of all time that you should probably know. So let's have a look.
Part 1. FLAC VS WAV: Which One Is Better
Before concluding if FLAC is better or WAV, it is essential to understand both of them.
About FLAC
The word FLAC stands for Free Lossless Audio Codec and is the best one to store audio in lossless formats. Now would you want to know what lossless format means here? It means that you can compress an audio file into FLAC, where you don't compromise on the output quality of the same audio file in terms of sound. FLAC occupies less space because of compression compared to WAV. It is developed by Xiph.
About WAV
Waveform Audio File Format or the WAV files are lossless audio and are also the best choice of audio format, which is used for the audio editing purpose. WAV can preserve the original audio quality with minimal loss. WAV takes more space on your device and also takes a little longer to transfer between the devices. The file format was initially introduced by Microsoft and IBM, where the audio format is not compressed; hence it is an exact copy of the source audio.
Why Need converting FLAC to WAV
Above all, what WAV files over the FLAC files is that the WAV files are supported by most of the devices and operating systems available in the market. It always comes the need to convert FLAC to WAV for more smoothly playback on common devices.
In case we have a FLAC file that we want to convert to a WAV file, we'll require a FLAC to WAV converter tool. And that is the topic of discussion here as we will discuss the best 11 FLAC to WAVE converters out there in the market with their PROs and CONs and the steps to convert FLAC to WAV using that FLAC to wave online converter tools.
Part 2. Best FLAC to WAV Converter to Convert FLAC to WAV Easily
There are many converters available today, but the best one and the most popularly used one of all time is the Wondershare UniConverter (originally Wondershare Video Converter Ultimate). If you are looking for the easiest software that can convert FLAC to WAV, go for Wondershare UniConverter.
It is a user-friendly adaptable cross-platform digital video converter. Not only that, but it is also a DVD burner and a windows converter. You can use this amazing software to convert video or DVD from one format to another within just a few seconds.
The Flac to wave converter software comes with unique and unlimited features that one can ever imagine and enjoy without any limitation. So let's have a look at the features of Wondershare UniConverter.
Wondershare UniConverter - Best Instagram to MP4 Converter for Windows/Mac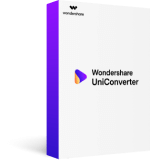 Convert any video at a 90x faster speed compared to any other software available today.
It supports 1000+ audio and video formats to convert.
It supports burning the videos to IOS files, DVD folders, or DVDs quickly.
It also allows you to edit any video easily with flexibility and great speed.
Transfer converted and downloaded files from PC/Mac to external devices easily via a USB cable.
Supported OS: Windows 10/8/7/2003/XP/Vista, Mac OS 10.15 (Catalina), 14, 10.13, 10.12, 10.11, 10.10, 10.9, 10.8, 10.7, 10.6.
Security Verified.
5,481,347
people have downloaded it.
Simple Steps on how to use Wondershare UniConverter to convert FLAC to WAV:
It is easy to convert FLAC to WAV using Wondershare UniConverter, and all you need to do is follow the simple steps given below.
Step 1

Import the FLAC file/s to Wondershare Video Converter.

First, you have to import the FLAC file to this FLAC to WAV converter. Click the add files button on the top left corner under the Converter tab, or simply drag the FLAC files to the + area on the pane.
Step 2

Select the output format as WAV.

Then select WAV as the output format. Click the Output Format at the bottom left corner to expand the supported formats list. You will see Recently, Video, Audio, and Device. Here, to convert FLAC to WAV, click Audio > WAV and select the detailed quality.
Step 3

Edit the FLAC file before converting (Optional).

If you want to cut or trim the FLAC audio file, then you can use the built-in editing feature on the software. Just click the scissors thumbnail under the added FLAC file, you can mark the part that you want or unwanted to keep or delete. After selecting your preferred settings, click OK to go to the next step.
Step 4

Convert FLAC to WAV.

Then click on the Start All button to convert the FLAC into WAV. When it is done, you can find the converted files under the Finished tab or click on the folder icon to locate the converted WAV file. If you want to custom the destination folder to save the converted FLAC files, click the down arrow sign beside File Location to choose and set the output folder.
Part 3. 5 Other Popular FLAC to WAV Converters
Beside Wondershare UniConverter, there are many more popularly used software available that is loved by the users, which helps in easy conversion of FLAC to WAV. We will give you a brief introduction about the top five popular FLAC to WAV converters of all time.
This software is one of the most used and best free audio converters as well as a CD ripper. It supports formats like MP3, MP4, M4A, WMA, Ogg, FLAC, WAV, etc. You can also rip the CD to MP3 or WMA files while you can use this software to convert a whole music library and retain the same files and folders without altering their names.
Pros:
This FLAC to wave converter is available in 40 languages.
It is very easy to use and also offers expert options.
It is a free FLAC to WAV converter and open-source software.
Cons:
There is no wizard mode available.
This is a software that allows the users to convert videos to DVD formats. It also allows the users to transfer videos from PC and MiniDV webcams without using any other tools. You can also cut, split, adjust the videos using this software.
It comes with enormous features and excellent video processing speed and is also lightweight.
Pros:
It is easy to use and is lightweight.
It allows high-speed conversion of videos.
This converter for FLAC to WAV also supports 180 portable devices.
Cons:
The software comes with limited editing features.
It is also a great software that allows converting files into WMA, WAV, AIFF, Ogg, and more 40 audio file formats. You can convert MP3, WAV, or WMA formats to the formats of your choice.
It is easy to use and automatically normalizes the audio while converting. It allows for faster conversion and optimized CPU usage. It comes with great features which makes it unique on its own.
Pros:
This FLAC to WAV Converter is easy to use and understand
You can customize your right-click converting options to create three different "quick convert" options.
It is free and intuitive.
Cons:
The GUI is not that great.
This FLAC to WAV converter software is fast, easy to use, and rich in features that one can ever imagine. You can convert and edit files from one format to another easily. It supports almost all of the audio file formats. It also supports you to open and convert M3U files and also allows you to download audio files from the internet.
Pros:
It has the ability to save the audios from the videos.
It provides high conversion quality and speed.
Comes with rock-solid stability, flexibility, and reliability
Cons:
Does not provide a straightforward interface
It is a freeware application and helps you convert music into formats like WMA, MP3, AAC, WAV, FLAC, Apple lossless, and many more. It is compatible with macOS X and windows.
It is simple to use and easy to understand FLAC to WAV converter for Mac and allows export into iTunes. It allows us to convert multiple numbers of files simultaneously and retains the folder structure.
Pros:
It offers support for lossless formats.
It offers automatic CUE splitting.
It offers iTunes support.
It is free and comes with a simple and intuitive interface.
Cons:
Sometimes It creates problems while selecting folders to convert.
Part 4. 5 FLAC to WAV Converter to Convert FLAC to WAV Online Free
FLAC and WAV both are lossless audio streams, one is compressed, and another one is uncompressed. As WAV is uncompressed, it provides the best quality of audio. People often seek help for converting their FLAC files to WAV online converters and get confused between many audio converters.
Here is a list of 5 best free converters that can be used for FLAC to WAV conversion:
This is a good online converter. It converts files up to 50 MB size, which may not be suitable for your video files but quite good for FLAC to WAV audio conversion. Rather than FLAC to WAV, it has many other options for you to convert a file from one format to another format.
Using the software is simple and hasslefree. And you can have all these services without any need to sign up.
Steps on how to convert FLAC to WAV using this software:
Step 1: Just click on the link https://www.zamzar.com/convert/flac-to-wav/ and open the online tool.
Step 2: Select the FLAC file you want to convert, and select WAV as the formant you want to convert your file to.
Step 4: Click on "convert" to convert your file.
CloudConvert helps you convert different audio, video, document, image, spreadsheet, presentation, etc. You need to register yourself first to use the software for conversion. If you need to convert your FLAC to WAV files on a daily basis, this can be your favorite application.
Another benefit of using this software for your conversion is that it allows you to set the preset properties for the file conversion, such as adjusting your audio volume and trimming the audio before starting the conversion.
Steps on how to convert FLAC to WAV using CloudConvert:
Step 1: Open the link https://cloudconvert.com/flac-to-wav.
Step 2: Upload the FLAC file you want to convert through browsing your PC and choose the format you want it to be converted to as WAV.
Step 3: Click on convert to start the FLAC to WAV conversion.
This is an amazing online FLACo WAV converter that meets all your expectations from an audio converting software. It allows you to convert your files to many formats while providing an extremely easy-to-use user interface.
One of the biggest advantages is that it allows you to import files directly from dropbox or Google drive. Though you can use this software for free online, you can buy its premium services for better options.
Steps on how to convert FLAC to WAV using Convertio:
Step 1: Click on the link https://convertio.co/flac-wav/ to open the software.
Step 2: Upload the FLAC file you want to convert by browsing through your PC.
Step 3: Choose WAV as the format you want your file to be converted to.
Step 4: After the completion of the conversion, download the file.
It is a simple software intended to fulfill your requirements of audio conversion, trimming, and editing. There may be much software to serve your purpose, but this one is the easiest software to convert your audio.
Despite being a simple application, it provides you with multiple formats to convert your files. Also, you can use this software on any platform and device.
Steps on how to convert FLAC to WAV using MP3 Cutter:
Step 1: Open the software using the link https://www.mp3cutter.com/flac-to-wav.
Step 2: Click "Choose File" to select the FLAC file you want to convert.
Step 3: Go to the editor page and adjust the properties for your WAV file.
Step 4: Click on "Convert" to start the FLAC to wave conversion.
In conclusion, we hope the above information has helped you understand and know about the top best and the most popularly used FLAC to WAV converters besides Wondershare UniConverter. You can use any one of them without thinking twice as they are all unique and incredible in their features.