Wav Sound Editor: How to Edit WAV Files Effortlessly
The WAV file is the purest form of audio files where you barely lose output quality. WAV format was introduced for the first time by Microsoft and IBM and then popularised by users around the world. Today we are here to discuss the WAV sound editor and how to edit WAV files with no effort using various software available online.
Some of the sound WAV editor software is the traditional standalone software that you download and install on your system and edit the WAV files. In contrast, the others are available online for free, they work in a cloud environment, and you don't need to download or install them on your PC.
Part 1. The Best WAV Editor to Help You Out in Editing WAV Files
There are many useful WAV Editors available out there that will help you edit the WAV files, but one of the best and the most popularly used editors is Wondershare UniConverter (originally Wondershare Video Converter Ultimate). It is one of the best, easy to use and adaptable digital audio/ video converters.
It is also a DVD burner and converter for Windows. This software lets you convert any audio/ video files from one format to any other at a great speed and retain the quality of the file at the output. It comes with many useful features that one can imagine and is the best one you can choose for yourself.
Wondershare UniConverter - Best Video Converter Windows/Mac (Catalina Included)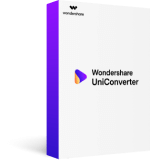 Convert the audio/video files 30x faster than any other software available.
Convert audio/videos over 1000 formats flexibly and easily.
It allows you to do fast and easy audio/ video editing.
It supports capturing and downloading any web audio/ video just in a click of a button.
It supports burning the videos to IOS files, DVD folders, or DVD discs simply by using this software.
Security Verified.
5,481,347
people have downloaded it.
Steps on how to use Wondershare UniConverter to edit WAV files (trim and adjust the audio of .wav files):
To trim WAV files and adjust WAV audio, you need to follow the following steps given below.
Step 1

Open the software and add the WAV file to the editing panel.

First, you need to open the Wondershare Uniconverter application and then choose the Video Editor section. Click the add files button to browse your files on the computer and select the .wav file that needs to be converted to open.
Step 2

Open the trimming window and make trimming/cutting settings.

Then you have to click on the Trim button on the left side to get the trimming window. Simply drag the time bar to choose the start and end time of the .wav file that you want to trim, or use the marked bar to mark the time point and then click the scissors icon to cut the WAV file into several parts. You can trim the video as per your requirement. It could be from the end of the audio/ video or the start.

After split the WAV file into several parts, you can delete the unwanted part by choosing the segment and clicking on the Delete button. Then click on the OK button to save the processed .wav file.
Step 3

Change WAV volume if you need it.

Besides trimming and cutting .wav files, adjust the audio built-in .wav files can be done with Wondershare Video Editor. Click the Effect icon under the thumbnail of the added WAV file. A pop-up window says Audio will show up, from where you can drag the volume bar to change WAV volume easily.
Step 4

Merge and convert the WAV file.

After all the settings, click to choose the option of Merge All Files, then select the output format that you want the WAV file to be. To keep it the same as the resource, you should click Output Format > Audio > WAV. And then, click on the Start All button to start processing the .wav file.
Part 2. 6 Other Popular WAV Editors for Windows and Mac | Windows WAV Editor & Mac WAV Editor
Apart from Wondershare UniConverter, other popularly used and well-known software are equally helpful in WAV editing and compatible with Windows and Mac. So let's have a look at some of the software available currently on the web to make your job easy.
1. Audacity
Audacity is one of the most used and popular applications. It is free and is an open-source application. Apart from this, it is also a cross-platform multi-track audio editor and a recorder. This WAV sound editor is compatible with Windows, Mac OS, Linux, and more.
You can record live audio using a microphone, and apart from this, you can also capture streaming audio. The sound WAV editor also allows you to export your recordings in many different file formats.
Compatibility: Windows, Mac, Linux
Pros:
This WAV editor is simple to use and intuitive.
You can quickly understand if you need to extend or cut off the tracks.
This free WAV editor allows you to do easy transitions.
Cons:
This online WAV file editor is not much helpful in removing the background noise.
The UI is less enjoyable compared to the other tools.
It is an audio waveform editor used for editing a single track, one of the best WAV file editing tools available in the market for recording and editing. It allows you to cut, copy, paste, delete, insert,auto-trim the audio.
One can also add a variety of effects such as amplify the audio, equalize the frequencies, normalize, echo, reverse, and a lot more. The WAV editor software supports the VST plugin, which makes it all possible. You can also remove vocals from music tracks and click pop removal, and the software also includes noise reduction features.
Compatibility: Windows and Mac
Pros:
The voice recording feature is simple and straightforward to use.
You can cut the recordings from anywhere and insert audio in it, easily saving a lot of time.
The online WAV editor supports CD input and burning.
Cons:
It only works with a single audio track.
It can be inefficient to work with if you have a lot of audio files to work on.
It is also a popularly used WAV editor, which is designed for quick cutting. It is very useful if you want to split an audio or delete the unwanted sections of audio. It allows you to use the volume control, which allows you further to boost the volume up to 10 times more.
This WAV editor for Windows also allows you to choose from several output formats like AAC, ALAC, M4B, AMR, MP3, and more. It is compatible with Windows.
Compatibility: Windows
Pros:
It is a free WAV editor.
It is lightweight
There are options where you can change the album art.
Cons:
It does not allow you to split the stereo tracks to edit them individually.
It does not allow you to preview the trimmed audio unless you have exported it.
If you are a beginner, this is one of the best software you can choose for yourself. Spectral analysis and signal generation are the two major cases where you can use this audio editing software. It is totally free and intuitive and very easy to use. It also allows for applying effects and filters with real-time preview.
It is compatible with Windows, Mac, and Linux. This software also handles large files easily without any hassle.
Compatibility: Windows, Mac, Linux
Pros:
The freeware with features that are enough for basic audio editing.
It has real-time previewing of effects and adjustments.
It also has customized hotkeys that speeds up the audio editing workflow.
Cons:
There is no multi-track handling available.
It does not support CD burning or ripping the tools.
This is also one of the best audio editors of all time. It allows you to edit and save the audio files in many formats like MP3, ALAC, FLAC, WAV, etc. It also allows you to cut, trim, mix, delete the audio parts, and remove the irritating sounds like roaring, hissing, crackling, etc.
You can also create a ringtone for the iPhone using this software. It provides clear and better sound quality and will give you an enjoyable experience.
Compatibility: Windows OS
Pros:
This Windows WAV editor requires less storage space
It supports audio recording, which means you can not only edit WAV files but also record all in one program.
You get effects where you can enhance your audio files even better.
Cons:
It supports only two-channel audio files.
The price could be a bit higher if you are looking for only one of the tools AVS suite includes.
It is a popular WAV editing software that helps you record, edit, and master the audio files and gives you a professional feel. The supported import formats of this software are 3gp, AIF, AIFC, AAC, SVX,w64, Ogg,mp3,mp4, and more.
It also allows USB microphone support and has a built-in file browser that will enable you to load and save the files. It also comes with a painless timeline selection and fluid zooming and panning navigation function. It also comes with various effects and features that one can ever imagine.
Compatibility: Windows OS
Pros:
It is highly secure to use
This sound WAV editor keeps on improving from time to time.
The support of this software is incredible and excellent.
Cons:
It has a file size limit.
Not support some file formats.
Part 3. Summary and Conclusion
In conclusion, we hope the above information has helped you understand how you can use Wondershare Uniconverter to easily edit the WAV files and the other best WAV file editors available on the web. So if you are looking for the best WAV sound editors, then download any of the above software without thinking twice as they are all unique in their own.