Metadata and Tag
1. Edit Video Metadata

+

2. Edit Music Tag

+

3. Edit Video Tag

+

4. Other Metadata Tips

+
How to View and Edit Video Metadata
I have downloaded and recorded some videos from online websites, but now I want to know how to view video metadata and how to edit video metadata. Can anyone help me? --- A question from Quora
Several people ask the above question, and this is a widespread problem when you download or record the videos because, in those files, you won't get video metadata. To solve this issue, you need to have good MP4 tag video editor software for the windows or Mac. Here in this article, we will list some of the best MOV metadata and other audio or video tag updater programs. Let's have a look at the get video metadata program, what is video metadata, and why the video metadata is essential for your video files.
Part 1. What is Video Metadata
Video metadata is a piece of text information that is used to tell users what the video is about. The Meta information of a video shows what is included in the video and what type of content is available in the video. The Meta information can be about anything such as a video, audio, image, excel, or word file.  If the metadata of the videos files is correct, then you get lots of hits on your videos on YouTube as well.
Part 2. Why is Video Metadata Important?
As we already told you what the metadata is, so now let's start discussing the importance of the video metadata.
Metadata is an essential part of any video or audio file. When you want to upload the videos on YouTube or other video-sharing websites, then Meta is the thing that helps you to get ranks for your files. You can get video metadata from online sources. If you are making your video, you need to add your Meta to the videos.
Let's talk about YouTube. For example, if you are uploading or uploaded any video on YouTube, at the time of searching, your video will not come in the first places if you have not updated the Meta of the videos. On YouTube, Meta information is such as title, tags, description, and keywords. You can add the keywords in the title, description, and keywords section. If you want to add some more related keywords, then you can enter the MP4 video tag related to the video keyword in the tag section. It is how metadata works on YouTube. YouTube visitors can easily find files without making much effort. So, metadata plays a significant role everywhere.
Part 3. How to Optimize Video Metadata?
Video Metadata or web page metadata both are very important for online video creators. If you have posted reliable metadata with your videos on YouTube or other sites, then users can easily find your videos in the Google search and YouTube search. It will help you to generate leads and views for the videos. If you don't have posted any tags of the videos, you can optimize FLV metadata or MP4 Meta using the metadata updater program. Before updating the Meta, you need to keep some things in mind about the Meta you are updating, which we are going to share below.
Video Title should be Accurate.
The video title is the first type of Meta, which will become the first place when any user types any keyword and enter press enter. So, while optimizing the Meta, the title of the video must be accurate so users can easily find your video. Google offers you a free keyword planner tool that can be used to find the right keywords for your title. You can use this tool and find the most popular keywords for your title. It will help you to get a higher ranking for your video.
Video Description should be Detailed.
Vide description is another thing that is very important for the video metadata. While writing a description of the video, you need to be sure to provide complete details about the video, so viewers can understand the video content and then understand that your video is worth watching. You can also add your video keywords in the description of your video.
Video Tags should be Correct.
Video tags are the thing which tells users and search engine crawlers about the category of video. Usually, you can use limited words in the video title and description. In the case that you have more keywords related to the video you are posting, then you can use those keywords in the tags section. It will also help you to get a good rank for your videos. Tags help YouTube's auto-play feature to play your videos automatically after finishing the current video.
Part 4. Best Software to Edit Video Metadata
Wondershare UniConverter (originally Wondershare Video Converter Ultimate) is one of the best video metadata Mac updater software, which is also available for Windows users. This program is compatible with all types of audio-video formats so that you can update FLV metadata, MP4 Meta, MOV file metadata, AVI metadata, or any other format Meta without any effort. Wondershare UniConverter is the easiest-to-use Meta updater program that comes with several other powerful features such as record, download, convert, edit video or burn the audio or video files. The downloading feature of the program can download the video files from more than 10,000 video sites, and convert function allows you to convert the downloaded or the system files to over 1,000 formats with just one click. The software offers you both manual and automatic metadata updating feature.
Your Complete Video Toolbox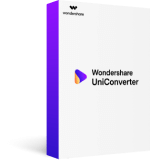 Fix media metadata, including song title, artist name, album name, album cover image, track number, and other information
Convert video to over 1000 formats, such as MP4, AVI, WMV, MP3, etc.
Versatile toolbox combines GIF maker, VR converter, and screen recorder
90X faster conversion speed than any conventional converters
Edit, enhance & personalize your video files
Burn and customize your video to DVD with free DVD menu templates
Download or record videos from 10,000+ video sharing sites
Supported OS: Windows 10/8/7/XP/Vista, Mac OS 10.15 (Catalina), 10.14, 10.13, 10.12, 10.11, 10.10, 10.9, 10.8, 10.7, 10.6
Security Verified,
5,942,222
people have downloaded it
How to Get Video Metadata with Wondershare UniConverter?
Step 1

Install Wondershare UniConverter

Firstly, download the Wondershare UniConverter and then launch it after installation. After launching the software, you need to click on Toolbox > Fix Media Metadata.
Step 2

Select Video File to Update Video Metadata

Now, in the new popup box, click on the dots and then browse the videos from the computer to update the MOV metadata or any other format file metadata.
Step 3

Search Video Metadata Information

After selecting the file, it will be added to the interface to update the Meta of videos. There, you will see a purple color button with the Search label. Click on this button, and then the program will find Meta for your added file.
Step 4

Save Metadata Information to Your Video

After finding the Meta of the added audio or video file, it will fill all the blank fields with the necessary Meta information. If you are still not satisfied, then you can enter the artist, album, episode, release date, rating, genre, and definition by yourself using your system keyboard.

Tips
If you want to import the files to iTunes after editing video metadata, you can move to How to import MOV to iTunes >> to learn more.
Conclusion
It is the information about MOV metadata and other format metadata. Once you have updated the metadata of the video files, you will never face issues of non-ranking of your YouTube or other sites videos. If you are facing the problem of updating Meta manually, then you can use Wondershare UniConverter to update the Meta automatically and manually or directly download videos from online sites with the complete Meta information. It will help you to listen to songs offline without the internet.