Metadata and Tag
1. Edit Video Metadata

+

2. Edit Music Tag

+

3. Edit Video Tag

+

4. Other Metadata Tips

+
Complete Video Software to Add Movie Metadata
If you have ever used a media file like a song, a video, or any other thing, you have already used metadata. Metadata can be described as the information about information, i.e., it gives you detailed knowledge about various aspects of any media file. Most of the media files already have movie metadata already attached to it. When it comes to metadata in videos, they can have information like the plot of the video, the director, artists, date, rating, genre, a poster/thumbnail, title, and sometimes even locations. If you want, you can tag movies with metadata manually by using various online and offline tools.
Part 1. What is Movie Metadata
Video metadata is an ID card of a media file, as it is the way to store the information about a particular file digitally. Metadata is essential as your devices use this information to organize your videos and create virtual albums using it. In terms of a movie, metadata plays an even important role. Film metadata holds a lot of importance as it keeps the link between each frame and sound and is very important for the synchronization of the data while the video is being ingested. It becomes even more critical when it comes to sharing as it helps in avoiding piracy of the file. The metadata is embedded in every video file by default, and you can even change it or modify it if you want to by using movie tagging software.
Part 2. What is the Role of Movie Metadata
Metadata plays an essential role in the media industry, and every video has it attached to the main file. The following are some of the functions that movies metadata plays:
Search discovery
Whenever you search for any content online, you enter some sort of information related to it. Your device goes through the metadata of the files in your hard drive and gives you the required results.
Recommendation and User Experience
One of the primary uses of metadata on online streaming sites is to make sure that the suggestions that you get are suitable for your taste. These platforms analyze the metadata of the recent items you have viewed and given you ideas accordingly
Easy globalization
If a video has related language metadata, it gets easier to provide the content in other languages. You can also find subtitles easily by using it.
Cataloging
Metadata is very useful in cataloging as when you upload a file on any platform, and it will automatically be placed in the relevant category because of the metadata.  
Part 3. Best Software to Automatically Fix Movie Metadata
Internet is filled with many online as well as offline tools that can help you to add or edit the metadata of any video file. If you come across a video that doesn't possess any metadata and you wish to add it to the file, you can use Wondershare UniConverter (originally Wondershare Video Converter Ultimate) to do so. You can download metadata for movies and then transfer it to the video file by using this tool. This is a competent tool that can help you perform various other editing tasks as well. You can convert the images and videos into any format you want. This tool also allows you to edit video, trim them, add background music, speed manipulation, and a lot more. Wondershare UniConverter is an all-in-one tool for all your editing needs.
Your Complete Video Toolbox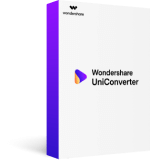 Fix media metadata, including song title, artist name, album name, album cover image, track number and other information
Convert video to over 1000 formats, such as MP4, AVI, WMV, MP3, etc.
Versatile toolbox combines GIF maker,VR converter and screen recorder
90X faster conversion speed than any conventional converters
Edit, enhance & personalize your video files
Burn and customize your video to DVD with free DVD menu templates
Download or record videos from 10,000+ video sharing sites
Supported OS: Windows 10/8/7/XP/Vista, Mac OS 10.15 (Catalina), 10.14, 10.13, 10.12, 10.11, 10.10, 10.9, 10.8, 10.7, 10.6
Security Verified,
5,942,222
people have downloaded it
Steps to Add Metadata to Your Movie by Using Wondershare UniConverter
Step 1

Download and Install Wondershare UniConverter

First of all, you need to go to the official website of Wondershare UniConverter and download the installer on your device. Once done, run the installer and install the software on your device and launch it.
Step 2

Add the File You Want to Add Metadata to

Now that you have installed and launched Wondershare UniConverter on your device, you will notice a Toolbox button on the top right-hand side of the screen, click on that and then you will see Fix Metadata option on the left upper side of the screen. Once you click on that, a small dialog box will appear on the right side of the screen, and you will notice … option on the right side, click on that and add the movie you want to add the metadata to.
Step 3

Add all the Information

Now that you have added the file, you will notice a Search button, which can be used to search and autofill the relevant metadata of that movie that can be found online. If the name of the movie isn't standard, you will have to search and add the metadata manually. The fields that you will have to fill contain elements such as genre, artists, direction, runtime, release date, cover image/poster, and a lot more. Once all that is added, you can click on the Save button, and the metadata will be attached to your movie.
Part 4. How to Add Movie Metadata with a Free Software
There are a lot of tools available online that can be easily downloaded for free and can be used to add or edit metadata of any video file. You can search for them online if you want to download and use them. The following is the list of the best free software that can be used to add metadata to movies or any other video files.
MKV Tool Nix
URL: https://mkvtoolnix.download/
MKV Tool Nix is a competent tool that was built specifically to edit MKV files. Nowadays, you can use this tool to edit, convert, easily trim, split, merge, and add metadata to various video formats. It is one of the best free-to-use tools on the internet currently and packs a plethora of features. This tool is capable of converting any type of video into MKV format through which you can hold multiple audio tracks into a single file, and this helps you if your video has multilingual usage. This tool can be downloaded across all the major platforms like Windows, Mac, Linux, and Ubuntu. The User interface of this tool is straightforward and provides for a lot of usability scenarios. It can be used for many basic as well as advanced video editing operations, and it works very fast.
Pros:
The graphical user interface of this tool is loaded with a lot of features.
The speed of conversions and rendering after editing videos is very fast.
Cons:
The user interface can be confusing for people who haven't used this tool before.
This isn't the easiest of the tool to do editing with as it may require some skills at some points.
Avidemux
URL: http://avidemux.sourceforge.net/
Avidemux is another excellent tool that lets you add metadata to any video file you want, among many other useful features. This is a free-to-use tool that can be easily downloaded and installed on a variety of platforms like Linux, Windows, and Mac. It is an excellent tool for beginners, as the user interface is very neat and easy to understand. You can cut, merge, split a video file using this tool. It also supports the conversion of video files into all the major formats like MKV, MP4, WMV, and a lot more. This tool is praised for its consistency and lossless conversion of video files. You can also add filters to the video, clean the audio, or change the background music of any video file you want by using this tool.
Pros:
This tool is entirely free to use and packs a lot of features.
It is one of the most reliable tools to add metadata to video files and movies.
Cons:
Sometimes this tool can be slow to render the final result.
You can't edit 4k videos using this tool as of now.
Lightworks
This is one of the best lightweight video editors available on the internet, and the fact that it is free to use is just cherry on top. This tool boasts of a plethora of editing tools like adding metadata, adding background music, trimming, cropping, merging video files, and a lot of other features. It is categorized as a professional-level video editor that can provide high-quality edits without losing the original quality of any video files. You can also add subtitles to any video by using this tool. This tool totals up to a marginal 200 MB, which helps you save a lot of space on your hard drive. This tool is available across all the major computer platforms like Windows, Mac, Linux, Unix, and Ubuntu.
Pros:
This tool is available on all the major platforms of the current period.
It provides lossless editing and conversion of all the significant types of video formats.
Cons:
Many important features like a smart content analyzer are missing.
The app has a lot of bugs and crashes on older versions of windows.
Summary
Metadata plays a significant role in movies as it is responsible for providing information like name, poster, information about the cast, genre, release date, director, and a lot more. Metadata can be called the identity card of a movie or any media file, and it is used for a lot of purposes like cataloging, saving from piracy, media sharing, recommendation programs, etc. If a video file doesn't have the necessary metadata, you can easily add it manually by using various tools that you can download for free. You can use Wondershare UniConverter for this task as well as it is a potent and easy-to-use tool.