Video Converter Alternatives
1. Video Converter Alternatives

+

2. Audio Converter Alternatives

+

3. DVD Converter Alternatives

+
Top 9 Alternatives to MediaHuman Audio Converter
If you are using MediaHuman Audio Converter and feel that it is not doing the job properly for you, then follow our article till the very end. We will be sharing handy information related to the most reliable and top alternatives to the MediaHuman.
Part 1. Review: How to Convert MP4 to MP3 with MediaHuman Audio Converter
MediaHuman Audio Converter is an encoder program that can convert any audio file to more than 10 different versions of audio file formats. The application is free and works well with popular operating systems like Windows and macOS. The software has a simple and intuitive UI that also allows the users to extract audio that they like from videos.
The friendly interface of MediaHuman allows the user to perform the file conversion quickly. The steps to use the software are as follows:
Step 1: Install the free software on your computer and launch it immediately.
Step 2: Click on the + sign and import the audio track you wish to alter.
Step 3: Hit on the Format tab to select the file format of your preference.
Step 4: Click the Start Conversion key to initiate the audio format changing sequence.
Step 5: You can click on the wrench icon to select the output location for the new audio file.
Part 2. Best Alternatives to MediaHuman Audio Converter
If you want to use a safe and fast-paced audio converter instead of using MediaHuman, then we suggest using Wondershare UniConverter. The tool can read both audio and video files and converts them to any compatible file format. It works brilliantly on notable computer frameworks such as Windows and macOS. The function of the UniConverter doesn't end here as it is capable of editing and personalizing your multimedia files. All of the utilities stated above make it the best alternative to MediaHuman Audio Converter. Some additional and useful features of the UniConverter Audio Converter are as follow:
Wondershare UniConverter - Best Video Converter Windows/Mac (Catalina Included)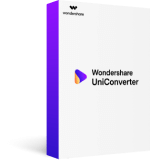 The app supports more than 1000 different versions of audio and video files, including MP3, M4A, and WMA, etc.
The UniConverter can burn DVDs with various types of templates.
The file format conversion rate is 30 times faster than all the average audio converters.
Processed videos can be transferred to an iPhone, Android, and other devices.
Additional features include video recording, DVD burning, DVD copies, and more.
Windows and Mac support.
Security Verified.
5,481,347
people have downloaded it.
Follow the steps to convert audio files using Wondershare UniConverter:
Step 1

Launch and add files to Wondershare UniConverter.

The UniConverter is operational on both Windows and macOS. It will only require a few seconds for you to install the software. After opening the software on your system, under the Converter section, click on
to import the audio file on the program. You can add multiple audio files to the interface.
Step 2

Select the output audio format.

Click on the Output Format tab and select the new file format for your audio track. You will find the list of audio formats under the Audio tab from the drop-down menu of the section.
Step 3

Convert audio files without quality loss.

Select the new file location for the converted file(s) by clicking on the File Location button. After that, simply click on the Start All tab to start the format conversion procedure.
Part 3. 5 Common MediaHuman Audio Converter Alternatives
There are plenty of alternatives to MediaHuman Audio Converter that can offer better compatibility with your device. These common substitutes are easy to manage and have to ability to convert your audio file to a variety of different file formats.
In this section, we will share vital information related to the 5 common alternatives to MediaHuman Audio Converter.
Any Audio Converter is a powerful conversion tool that can not only convert offline audio tracks but also pluck out soundtracks from any YouTube video. The program is free and offers you to convert your files to file formats like MP3, WMA, AAC, and M4A. All these utilities make it an excellent alternative to MediaHuman Audio Converter.
Pros:
It supports file conversion to more than 200 formats;
The conversion speed is 20x faster than most audio converters.
Cons:
It only supports Windows.
Available for the Windows operating system, the File-Converter tool does the job will utter efficacy. After the installation process, the app integrates itself to the Windows File Explorer. It means that you will be able to use the application without having to launch it every time on your PC. You will only have to right-click on the audio file before clicking on File Converter to start the process, which is far more comfortable than using MediaHuman.
Pros:
It becomes a built-in feature of the Windows Explorer after installation;
The app can convert any document file to PDF format.
Cons:
It is not compatible with macOS.
One of the top alternatives to MediaHuman Audio Converter is Fre:ac. It is a free-to-use audio converter that can convert your audio file to more conventional formats like MP3, MP4/M4A, WMA, and OGG. The app will allow you to edit the audio file to your preference. It has free versions across Windows, macOS, and Linux Ubuntu.
Pros:
It is an open-source audio encoder;
It supports a wide variety of languages.
Cons:
The UI of Fre:ac is a bit tough to manage.
BigaSoft Audio Converter is an excellent substitute for MediaHuman, as it is a fast-paced application. The program can change the file system of your audio track to notable formats like MP3, WMA, M4A, AAC, WAV, and OGG. The app has a stylish yet friendly UI that is easy to use. You will be able to access the program on both Windows and macOS systems.
Pros:
BigaSoft Converter allows you to edit and enhance the quality of your audio file;
It can perform format conversion at 5x the rate of an average program.
Cons:
It only offers a free trial, and you would have to buy the app after a specific period.
With an intuitive app design, Switch Audio Converter is a reliable alternative to MediaHuman. The program is cost-free and supports platforms like Windows, macOS, Android. It will allow you to do batch conversion of more than one audio file simultaneously.
Pros:
It supports more than 30 audio file formats.
The app interface is user-friendly.
Cons:
You can only convert a specific amount of audio files with the trial version.
Part 4. 3 Online Alternatives to MediaHuman Audio Converter
Online Audio Converters allow you to avoid installing more advanced audio converters like MediaHuman on your computers. They are also free and compatible with every available operating system. However, the features that they offer are limited, and we do not recommend using them to convert high-storage audio files.
Zamzar file converter platform is available through the following link: https://www.zamzar.com/.
It not only offers you to convert audio files to any system, but you can also alter the format of your videos and documents with it. The online converter is a viable alternative to MediaHuman Audio Converter, mainly if you don't wish to use the app on your system.
Pros:
The service supports more than 1200 file formats;
You can use the service on Windows, Linux, and macOS.
Cons:
The file conversion process is relatively long.
Online Audio Converter is compatible with every version of popular web browsers, making it a secure substitute to MediaHuman Audio Converter. The service is fast and supports audio and video files with 300+ formats. After the audio conversion process, you will be allowed to download the new file safely to your computer's folder or disk drive. You can use the platform by opening the following link: https://online-audio-converter.com/.
Pros:
It can extract audio from a video file at a swift pace.
The Online Audio Converter can convert multiple files simultaneously in a batch.
Cons:
The functions of the software are fairly limited as compared to conventional audio converters like the UniConverter.
Conclusion:
After reading this guide, you will be well equipped to get a more compatible audio converter tool than MediaHuman Audio Converter. Each one of the nine alternatives to MediaHuman carries unique attributes. Still, in the end, we suggest that you pick the UniConverter by Wondershare. It is since the program has a fast conversion rate, and you will be to convert video files as well with it. You can share this guide amongst your family and friends if they wish to find a better alternative to MediaHuman Audio Converter.