All Topic
DVD Users

Social Media Users

Camera Users

Photography

Creative Design

Movie Users

Travelling Fans

Educational Users

More Solutions

Holidays

Game Lovers

Other Tips
Best 5 Auto Caption Apps for Android in 2023
Adding captions to your videos increases the target audience and serves several other advantages. Manually Adding captions is a challenging and time-consuming task, and thus to make the process easier several apps are available. So, if you are too searching for one such auto caption app for Android, we have curated a list below.
KwiCut
Transform Long Videos into Short Ones Instantly
Turn long videos into viral clips. Effortlessly transform lengthy videos into engaging, shareable clips.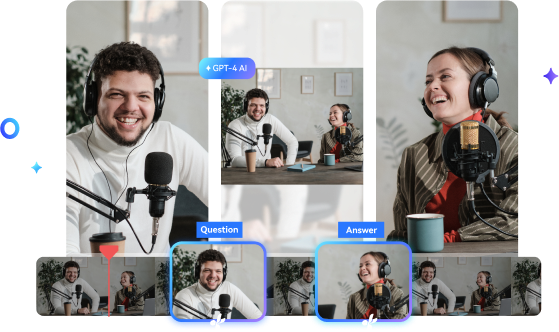 Part 1. Best 5 Auto Subtitle Generator for Android
The best 5 apps to automatically generate the subtitles for your videos on your Android devices are below.
This Android-based app allows adding captions to the videos automatically using voice recognition technology. The audio of the video file is analyzed by the app and then converted into text. The videos are processed in lossless quality and with a watermark. Additional features include text animation styles, text editing options, video sharing on social networking sites, and more.
Pros:
Simple to use a free app
Use voice recognition to turn audio into text
Option to editing the text
This auto-subtitle generator for Android has multiple text animation styles
Cons:
Free version process videos with a watermark
The app can transcribe only 5 minutes of videos' audio, and then the rest of the file has to be added manually
Advanced features with paid subscription
Reviews:
The app is good to use and easy to edit. The results are good.
The app does not work properly around 25% of the time and does not recognize the voice.
The app is good to use but requires fixing of voice recognition at times.
This is another popularly used Android app with a 4.2 rating. The app is free with IAP. The app is capable of auto-detecting, transcribing, and then adding the subtitles to the videos using AI. The captions can be edited by changing the style and colors. The generated caption file can also be exported, and there is multi-language support.
Pros:
Free to use the app without any restriction of video length
Automatically add captions to the videos
SRT file can be exported
Cons:
This auto-captions app process files with a watermark
Maximum 2 videos in a day can be transcribed in a day
Reviews:
Only 2 videos can be processed in a day, and if you need more videos to be transcribed, you need to buy a paid subscription.
It is a great app to use and work with.
The app is not very effective. The long videos, even in the paid subscription, take ever to add captions.
The AI-powered automatic speech recognition of the app allows you to recognize, translate and create subtitles automatically. The app uses speech/voice-to-text algorithms for creating apt subtitles. You can even adjust the font size, color, and position of the captions as needed. The videos with captions can be shared on social networking sites.
Pros:
Speech translation supported from over 90 languages
AI speech recognition for creating subtitles automatically
Option to choose the desired caption font, size, and placement
Cons:
Comes with ads
Advanced features require a paid subscription
Reviews:
It is a great app for people who need to edit videos without spending much time.
Wonderful app to create and edit videos and make them more beautiful by changing the color, font, and position.
It is a very good app that can create subtitles in any language and matches the audio of the video.
4. Auto Subtitle
With a 4.4 rating, this is another wonderful app to automatically identify and create subtitles for a video. The captions and the SRT files can also be exported if required, and the app supports multiple languages, including English, Chinese, Thai, Cantonese, and Japanese. Speech recognition technology is used by the app, and recommended video size is 10 minutes.
Pros:
Free app to recognize and add subtitles automatically
Export the SRT file or the captions
No watermark on the processed files
Cons:
To add subtitles to videos above 20 minutes, you need to pay
Support only for 5 languages
Reviews:
Excellent app for adding subtitles to the videos
The app is good but supports only 5 languages
This is a great app to add subtitles efficiency. Though voice recognition is not always perfect, it saves a lot of time.
With a 3.1 rating, this is a decent app to automatically add subtitles to your videos. You need to pay to get fully automatic captions and subtitles. The app supports more than 8- spoken languages and over 100 translation languages. Additional features include automatic captions for YouTube, local videos, subtitle editor, built-in player, and option to export subtitles in multiple formats.
Pros:
Support to multiple languages
Option for exporting subtitles in different formats
Subtitle editor
Cons:
Need to pay to get automatic captions and subtitles
Issues with uploading long videos
Reviews:
An excellent app to generate translations and captions with a few fixes here and there
Having issues with uploading long videos
Part 2. 2022 Most Recommended Auto Subtitle Generator
To auto-generate subtitles on your Windows and Mac system, Wondershare UniConverter is the best software to consider. We highly recommend this tool owing to its smooth functioning, quick process, and support to a wide range of functions. Using the Subtitle Editor function of the software, you can add your choice of video and can then search for the subtitles online automatically. There is also an option to manually add the subtitles or import the local SRT file. The color, font, and other parameters of the subtitles can also be adjusted as needed.
Security Verified. 5,481,347 people have downloaded it.
The subtitle editor feature of the software allows searching and adding the subtitles automatically

Manual subtitle adding or importing local SRT file option also available

Edit the subtitle font, color, position, and others as needed

Serve as a complete video toolbox supporting functions like video conversion, editing, download, recording, transfer, and much more
Steps to auto-generate subtitles using Wondershare UniConverter:
Step 1

Launch Wondershare Subtitle Editor and add your video files.

Open the software and click on the Toolbox tab on the left-side pane. From the list of the supported functions on the right-hand side, choose Subtitle Editor.
Click on the Add Video icon on the top-left corner or tap on the center + sign to browse and import the local video you wish to add the subtitles.
Step 2

Choose to add subtitles automatically.

After the video is added to the interface, click on the Auto-Subtitle Generator tab.
A new pop-up window will open, and here from the supported list, you need to choose the video language. Next, clicking on the Start Now button will start the auto recognizing process.
Step 3

Open the generated subtitles.

The software will generate the subtitles, and then you can click on the Open button or the Import Subtitles button as needed.
Step 4

Export the video with subtitles.

The Subtitle List tab will show the list of all the subtitles imported. The folder on the system to save the processed file can be selected from the File Location tab. Finally, tap on the Export button to process and save the video.
Part 3. FAQs about Auto Subtitle Generator APP
1. Is there any FREE automatic subtitle generator?
Yes, there are a few free automatic subtitle generator tools and programs available. Check out the 3 of the popular ones below.
Though VLC is widely used as a free and open-source media player, it can be used for several other tasks. With the app, automatic captions and subtitles can be created, but since it is not a caption editor, you need first to use Sonix for automatic transcription. Once the SRT file is available, it can be exported to VLC easily.
Veed.io is a free online tool that works directly from your browser and allows you to add subtitles to your files automatically. Multiple languages to detect are available, and you can choose from the list. Besides automatically adding the subtitles, you can also add them manually or import the local subtitle files. A wide range of other video editing features is also supported by the tool. You need to free sign-up with the tool to use the features.
YouTube has a built-in feature where YouTube auto-translates captions using speech recognition technology. You need to sign into YouTube Studio to use the function, and the auto caption function is available in several languages.
2. Is there any way to generate subtitles/captions from an audio track?
If you want to generate subtitles and captions from an audio track, VEED.IO is a good online tool. You can either add a local video or an audio file from your device or record the same using the program. The option for adding the file using the link or from Dropbox is also there.
Summary:
One of the above-listed apps can be used to add captions to the videos on your Android devices. For automatically adding the subtitles to the videos on your system, Wondershare UniConverter is the best choice. In addition to the auto subtitle function, the software also supports a long list of other useful features.
This article will show you how to add subtitles to Vimeo in an easy method.
The article will show you how to free download YouTube subtitles with 4 alternative methods, read on to choose one that suits you best!
I hope now you would have understood what is a subtitle and what is an srt file? You can watch a foreign language movie with the subtitle specification.In this article, we shall understand what is a subtitle and its importance.
Your complete video toolbox
Other popular Articles From Wondershare