Try Wondershare UniConverter for free now!
Over 3,591,664 people have downloaded it to try the advanced features.
Sometimes you can shoot the perfect footage only to realize that an unwanted person or object appears. For example, this can be a wedding or anniversary video where you only need to capture the couples. For this reason, you'll need to learn how to cut out a person in a video without losing the original video quality. So, keep reading to learn how to crop someone out of a video using some simple AI-supported methods.
KwiCut
Transform Long Videos into Short Ones Instantly
Turn long videos into viral clips. Effortlessly transform lengthy videos into engaging, shareable clips.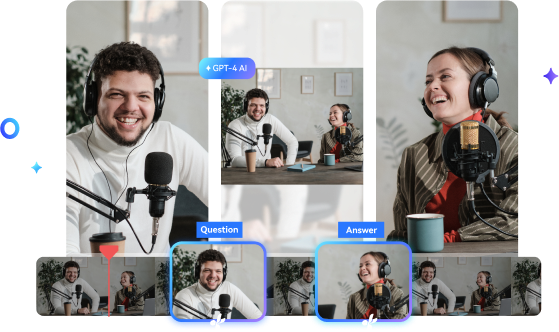 Part 1. How to cut out a person in a video easily?
This section will discuss the simple step-by-step guide to crop someone out of a video with three working solutions. Let's get started!
#1. Crop someone out of a video with Wondershare UniConverter
Let's begin with the simplest way to auto-crop someone from a video using Wondershare UniConverter Smart Trimmer. It's a beginner-friendly video editor that packs a powerful Smart Trimmer. It uses the latest AI technology to automatically select the object or face you want to crop or keep in the video. To achieve this, UniConverter lets you import a picture of the person you want to erase or simply grab a screenshot on the preview screen. You can even adjust the accuracy of the facial-recognition tool.
Here is how to crop someone out of a video with Wondershare UniConverter:
Watch Videos to Learn How to Trim Videos on Mac
Step 1 Open the Smart Trimmer tool and load a video.
Install and run UniConverter 13 on your Mac/Win computer and then tap the Smart Trimmer tool on the home window to open it. Then, click the Specific Portrait tab before dragging and dropping your video. Or, simply click Add Files to open your local videos on the Specific Portrait tool.
Step 2 Select the face or object to trim out of the video.
Next, play the video to find the face you want to trim out. After seeing it, click the Screenshot button to select the object on the playback screen. Alternatively, press the Add Image button to upload an image to erase from the video. Now choose to Remove the face before adjusting the Accuracy slider.
Step 3 Preview the video and crop out the person.
Now click Run to identify the video section with the face you want to crop out in the eventual file. You'll see the clips marked with the Invisible mark. Finally, set a File Location and then click Export to crop the unwanted video subjects. And that's how to crop someone out of a video with Wondershare UniConverter.
Wondershare UniConverter — All-in-one Video Solution for Windows and Mac.
Security Verified.
3,591,664
people have downloaded it.
100% automatically trim the videos with AI technology.
90X faster conversion speed to convert 1,000+ formats.
Compress your video or audio files without quality loss.
Remove any watermark from videos without blur.
Nice AI-enabled subtitle editor for adding subtitles to videos automatically.
Save any online video from more than 10,000 platforms and sites.
#2. Cut out a person in a video with Adobe Premiere Elements
Adobe Premiere Elements is a Hollywood-grade Mac/Win video editor that transforms standard videos into award-winning clips in seconds. The drag-n-drop multi-track timeline offers automated editing with intelligent tools to match. For example, the Smart Trimmer uses advanced Artificial Intelligence to select and merge the best video scenes, depending on your style. You can also auto-reframe videos for social media sharing and add backgrounds, motion titles, and mattes. Sadly, there are no freebies here as a one-time purchase costs $120.75.
So, here is how to remove the clips with a person in a video with Premiere Elements:
Step 1. Install and fire up Premiere Elements on your PC and then load your video. Now select the video on the timeline and then tap the Tools icon on the left menu bar. Then, open up Smart Trim.
Step 2. The Smart Trim feature will automatically select and split your video into smaller clips. But don't worry because you can change the preset to choose the video sections you want to cut out. So, click the People preset to select elements that only have faces in them. The video segments with faces will automatically be selected on the timeline.
Step 3. You'll see a slider below the presets to manage the extracted scenes. Now drag it to the right to select more scenes and to the left to do the opposite.
Step 4. Once you've selected enough clips, hover the mouse cursor over the upper-right corner of the selected clip and tap "X" to eliminate the scene. You can repeat this action on multiple clips. Adobe Premiere Elements will automatically add transition effects to the merged segments.
#3. Crop someone out of a video with
Still unimpressed by the first two options? Try instead. Similarly, it's a Mac/Windows program with advanced video editing capabilities. This fun video editor packs a collection of innovative tools to perform tasks like color grading, video stabilization, video masking, and dynamic split-screen editing. You can also customize your videos with thousands of filters and premium-quality effects. And, of course, you can split, cut, trim, and crop videos on . The pricing? $79.99 with a 30-day money-back guarantee.
Now let's learn how to crop out someone from a video with :
Step 1. Install and run on Mac/Win and create a New Project with the video you want to crop. Remember to drag and drop the clip to the timeline for a more hands-on editing approach.
Step 2. Navigate to the timeline, place the playhead on the video section with a face you want to trim, and tap the Split button below the preview screen. Now repeat the action to select the endpoint and split out more clips.
Step 3. To cut out the clip with an unwanted object, select it on the scene line, and tap Delete on your keyboard. Alternatively, right-click the selected clip and tap Delete.
Step 4. Or, you can proceed to crop out the selected clip by right-clicking it and choosing Crop Mode. Then, resize the lasso tool on the preview screen to the minimum setting. This way, when you play the whole video, the cropped out segment will display a black screen. Then, you can trim the piece further to just a second or so. That was easy, I know!
Part 2. Frequently asked questions about cropping someone out of a video
How do I remove unwanted parts of a video?
Removing unwanted parts of a video is so easy these days. That's because there are hundreds of video trimming programs, including online and mobile versions. So, to cut out parts without a person of a video clip, simply use a powerful video trimmer like and apply the steps above. Remember, Wondershare UniConverter also has a manual trimmer embedded in the Video Editor tool. There's simply no shortage of quality video trimmers out there.
Can you remove objects from a video?
Removing specific objects from a video can be a little bit challenging with a traditional video trimmer. For this reason, you need an AI-powered tool like Wondershare UniConverter or Adobe Premiere Elements. Note that the latter allows you to trim out video objects, depending on human faces or actions. But Wondershare UniConverter makes it a whole lot better by allowing users to choose or screenshot the specific object they want to trim.
How do you delete certain parts of a video?
Again, a traditional video trimmer like will take forever to delete specific parts of a video. Therefore, use Wondershare Smart Trimmer to delete video parts based on audio settings. It lets you delete silent parts of a video, depending on the volume level, buffer, and audio length. Just launch the Smart Trimmer, tap Remove Silent Segments, and then load the video. After that, enter the audio settings and click Run to analyze the video.
How do I crop just the person in a video?
Well, sometimes, you may want to crop a single face in a video to make it clearer to the viewers or remove objects like watermarks. In that case, will come in handy. With it, just trim out the specific video segment with the face you want to crop and then open the Crop Mode. Now drag the lasso tool on the preview screen to crop the video. After that, merge the clips and enjoy.
Part 3. Conclusion
I hope you have learned something up to this juncture. The thing is that AI-powered smart trimmers are taking over the video editing industry. Not only are these programs simple to use, but they also allow quicker and more precise trimming. However, the importance of a manual trimmer like should also not be underestimated. It's simple; just choose the method that delivers excellent results for you.