Risulta impossibile esportare video da Windows Live Movie Maker in AVI, perché Windows Live Movie Maker fornisce solo l'opzione di formato video WMV quando provi a esportare file video. Comunque, c'è una soluzione se vuoi salvare i tuoi file Windows Live Movie Maker come file AVI. Per prima cosa, il video viene esportato in WMV con lo stesso Windows Live Movie Maker, e poi usi un ottimo convertitore video per convertirlo in AVI. In questo modo potrai riprodurre i tuoi file Windows Live Movie Maker su apparecchi o con applicazioni che supportano il formato AVI.
Parte 1. Convertitore video professionale per desktop per convertire file Windows Live Movie Maker in AVI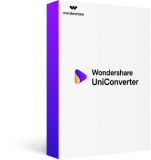 Convertitore Video Professionale:

Converte file Windows Live Movie Maker in file AVI rapidamente e senza alcuna perdita nella qualità del video.

Supporta molti formati:

Converte video in molti formati come MP4, MOV, DVD, VOB, MKV, FLV ecc, anche per vari popolari apparecchi.

Grande Editor Video:

Modifica video con le avanzate funzioni di video editing come taglia, seleziona, aggiunta sottotitoli o effetti.

Potente masterizzatore DVD:

Masterizza video su DVD con molti modelli di menu per DVD.

Fastest Conversion Speed:

Convert videos at the 30X fastest conversion speed than almost all the competitors.

Sistemi operativi supportati:

Windows 10/8/7/XP/Vista, Mac OS X 10.12 (Sierra), 10.11 (El Capitan), 10.10, 10.9, 10.8, 10.7, 10.6
Come convertireo file Windows Live Movie Maker in AVI
Passo 1 Esporta file Windows Live Movie Maker in file WMV
Avvia Windows Live Movie Maker, vai a "File" -> "Open project" per importare i tuoi file progetti Windows Live Movie Maker. Clicca ancora su "File", e poi seleziona "Save movie" > "Standard-definition" per esportare nel formato WMV.
Passo 2 Importa file video WMV
Dopo aver avviato questo intelligente convertitore video, vedrai la sua interfaccia "Converti" come segue. E c'è un pulsante

nell'angolo in alto a sinistra. Basta cliccarci per caricare i file WMV che avevi salvato nel passo 1 in questo programma.
Passo 3 Scegliere AVI come formato di output
Per aprire l'elenco dei formati di output, basta cliccare

sulla parte destra del video. Poi, puoi cliccare il tab Video, scegliere la categoria AVI e scegliere la risoluzione dalla sezione a destra.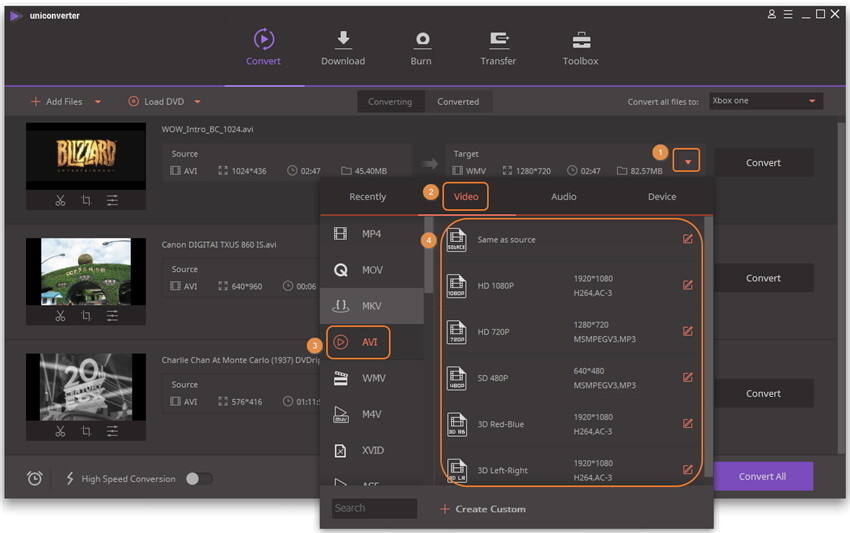 Nota: Se converti file in AVI per riprodurli su alcuni apparecchi, qui, potrai anche selezionare l'apparecchio come formato di output. Basta cliccare il tab Apparecchio.
Passo 4 Converti file da Windows Live Movie Maker ad AVI
Basta premere il pulsante Converti o Converti Tutto nel programma. Questa applicazione comincerà immediatamente a convertire i tuoi file in file AVI. Il processo di conversione durerà pochi minuti. Lo puoi lasciar lavorare in background.
Quando la conversione termina, puoi ritrovare rapidamente i file AVI convertiti cliccando l'icona a forma di cartella nel tab Convertiti. E inoltre, puoi ulteriormente trasferire questi file convertiti ad un tuo apparecchio se vuoi.
Parte 2. Convertitore video 100% gratuito per convertire file Windows Live Movie Maker in AVI
# 1. Convertitore gratuito da Windows Live Movie Maker in AVI: Wondershare Video Converter Free
Pro: puoi usare questo convertitore video al 100% gratuito da AVI per Windows Live Movie Maker con diversi formati video e audio supportati. Inoltre le potenti caratteristiche di video editing ti consentono di migliorare il video tagliando, selezionando, regolando, aggiungendo sottotitoli, ecc. Inoltre, il download di video da YouTube è un'altra importante funzione.
Contro:
1. La velocità di conversione 30 volte più rapida si può usare solo 10 volte.
2. La funzione di masterizzazione video su DVD non è disponibile in questa app.
3. La qualità del video originale potrebbe essere persa, mentre Video Converter Ultimate supporta conversioni video senza perdite.
Parte 3. Convertitore video online gratuito per convertireo file Windows Live Movie Maker in AVI
Su Internet ci sono molti software a disposizione per convertire i tuoi formati file, ma in questa sezione vorremmo raccomandarti un semplice strumento per la conversione da Windows Live Movie Maker in AVI: AConvert. Permette di convertire i tuoi file da windows live movie maker (che usa il formato di estrazione .wmv) direttamente in AVI in pochi semplici passaggi, senza ulteriore necessità di scaricare un programma terzo per effettuare la conversione.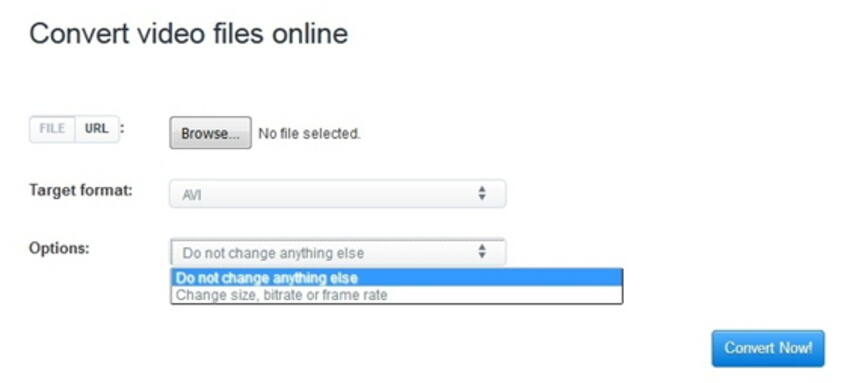 Passo 1. Vai a https://www.aconvert.com e sul suo Pannello di Controllo situato a sinistra clicca su Video.
Passo 2. Cerca il tuo file video cliccando sul pulsante File > Naviga oppure se hai un file online clicca su URL e aggiungilo.
Passo 3. Su Formato bersaglio, clicca sulla freccia in basso e cerca il formato AVI.
Consigli: Se devi fare qualche regolazione manuale, clicca sulla freccia in basso di fianco a Opzioni e modifica bitrate, frame rate e altre impostazioni.
Passo 4. Clicca sul pulsante Converti Ora e la conversione partirà. Su Risultati Conversione, troverai il tuo file di output e lo potrai salvare.
Pro:
Non serve pagare per una licenza.
Facile e veloce da usare.
Non può personalizzare i tuoi video aggiungendo sottotitoli.
Contro:
Funzioni limitate.
Richiede tempo.