MP4
1. Converti Altri Formati in MP4

+

2. Converti MP4 in Altri Formati

+

3. Altri Consigli per MP4

+
L'MPG è uno dei vecchi formati di file in uso per dati video. MPG rappresenta un numero di estensioni come compressione audio e video MPEG-1 o MPEG-2. Oggigiorno il video MPEG-1 Parte 2 è abbastanza raro, questa estensione di solito è utilizzata per una trasmissione di un programma MPG o MPEG. L'unica ragione per dare a un file l'estensione "mpg" è perché vecchi file di sistema o sistemi operativi sono limitati a nomi di file 8.3, cioè 8 lettere, un punto e un'estensione di tre lettere...In questo caso, MPG soprattutto si usa per file convertiti da videocassette o lettori VCD.
D'altro lato, MP4 è il formato video più recente e ampiamente usato nel mondo. L'MP4 usa la compressione MPEG-4 che è la forma avanzata / aggiornata della tecnica di compressione MPEG-1.
Se hai un vecchio lettore VCD e vuoi riprodurre il tuo video su quello o su un altro apparecchio che supporta solo file MPG, allora dovrai convertire il tuo video MP4 in formato MPG.
La maggior parte dei convertitori video supporta solo formati avanzati e recenti, ma c'è un fantastico convertitore video che si chiama "Wondershare Video Converter Ultimate". Grazie a questo software potrai convertire quasi tutti i formati multimediali in qualunque formato senza restrizioni o perdite.
Wondershare Video Converter Ultimate supporta formati MPG di qualità HD, può convertire il tuo video HD in MPG senza alcuna perdita di qualità. Usando la tecnica di confronto avanzata "Testa-a-Testa", è 30 volte più veloce degli altri convertitori comuni. Wondershare Video Converter Ultimate supporta 1000 formati inclusi gli ultimissimi formati video 4K e i firmati supportati da apparecchi portatili. Inclusa la conversione video, le seguenti sono le caratteristiche principali di questo software.
Ecco un elenco di caratteristiche che rendono Wondershare Video Converter Ultimate il preferito tra tutti gli utenti e i professionisti:
Wondershare Video Converter Ultimate - Migliore Convertitore per iPhone su Windows / Mac (MacOS Sierra incluso)
Converte direttamente da MP4 a MPG, AVI, MKV, MOV e 1000+ altri formati.
Converte da MP4 a MPG in blocco con velocità di conversione 30 volte più rapida rispetto ai comuni convertitori.
Masterizza video su DVD o dischi Blu-ray per riprodurli con il tuo lettore DVD con modelli DVD gratuiti.
Scarica o registra video da YouTube e altri 10.000 siti.
Gli strumenti di editing integrati aiutano a personalizzare i video per iPhone, con funzioni come taglio, selezione, aggiunta di sovrimpressioni, sottotitoli, ecc.
Trasferisce video da computer a iPhone, iPad e altri apparecchi direttamente e vice-versa.
Sistemi Operativi Supportati: Windows NT4/2000/2003/XP/Vista/7/8, e Windows 10 (32 bit e 64 bit), Mac OS X 10.12 (Sierra), 10.11(El Capitan), 10.10, 10.9, 10.8, 10.7, 10.6.
Sicurezza Verificata:
5.481.347
di persone lo hanno scaricato.
Guarda il Tutorial Video su come Convertire file MP4 in MPG
Come convertire MP4 in MPG usando Wondershare Video Converter Ultimate:
La stessa GUI (Interfaccia Grafica Utente) di Wondershare Video Converter Ultimate è user-friendly. Non ti servirà alcuna esperienza informatica per utilizzarlo. Con una minima pratica potrai convertire video da MP4 a MPG da solo.
Through this article we further assist you about MP4 to MPG conversion with step by step procedure including screenshots as below, we make the Windows version for example, the Mac version is much similar to the following steps.
Passo 1Aggiungi file MP4 al convertitore MPG.
Installa e avvia il tuo Wondershare Video Converter Ultimate.
Dato che questo software include molte altre funzioni, assicurati di andare nella finestra giusta.
Clicca sulla sezione

Converti

e nel tab

Conversione

.
Poi clicca sul pulsante

Aggiungi File

per aggiungere il file MP4 che desideri convertire.
Passo 2 Scegli MPG come formato di output video per la conversione da MP4 a MPG.
Clicca l'icona a discesa di fianco a Converti tutti i file a:, scegli MPG e la risoluzione desiderata per il formato di output dalla categoria Video. Nota bene che puoi anche personalizzare il formato di output cliccando su Crea Personalizzato per impostare frame rate, bitrate, condifica, ecc.
Passo 3 Converti da MP4 a MPG.
Alla fine clicca sul pulsante Converti Tutto per far partire la conversione da MP4 a MPG. I tuoi file MP4 saranno convertiti con successo in MPG. Dopo la conversione, potrai cliccare l'icona Output per trovare i file convertiti.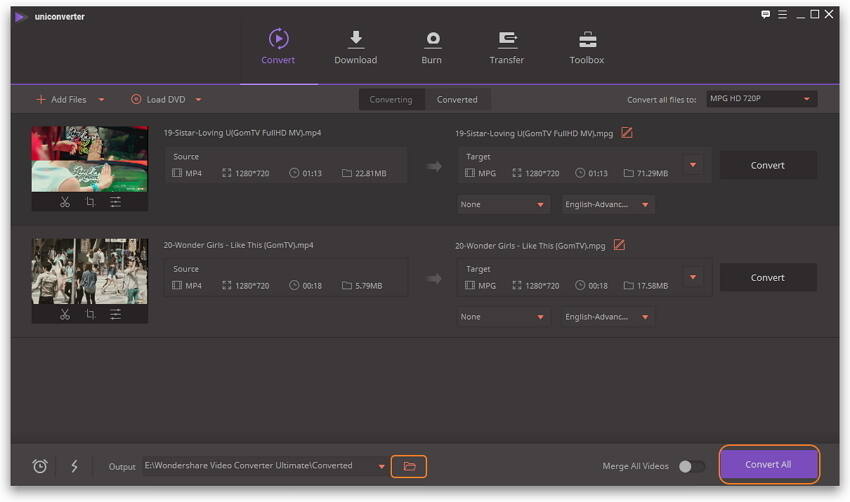 Estensione File
MPG
MP4
Categoria

File Video

File Video

Descrizione
MPG è un'estensione di file per l'animazione MPEG con la codifica MPEG-1 o MPEG-2. L'MPEG-1 è stato progettato per codificare video in progressione a bit rate di circa 1,5 milioni di bit al secondo; è stato progettato specificamente per CD video e multimedia CD-i. L'MPEG-1 audio layer-3 (MP3) è stato sviluppato dai primi formati MPG.

MP4 è una estensione di file multimediale, un formato contenitore che può contenere video, audio e sottotitoli o anche di più a seconda dei contenuti). L'MP4 usa la compressione MPEG-4, uno standard sviluppato dal Moving Picture Experts Group (MPEG). Divenne più popolare dato che negozi come iTunes usano questo formato contenitore, ed è usato anche da iPod e PlayStation Portable (PSP) come supporto integrato, quindi i file MP4 sono diventati più popolari.

Programmi Associati

VLC media player, WinDVD, Media Player Classic, Wondershare Player

Apple QuickTime Player
Apple iTunes
Windows Media Player

Sviluppato da

Moving Picture Experts Group

Moving Picture Experts Group

Tipologia MIME

Video, Immagine in movimento, Suono, Aggregati,

Video, Immagine in movimento, Suono, Aggregati,

Link Utili

Più dettagli sull'MP4
Come convertire e masterizzare MP4 su DVD
Come riprodurre MP4 su Galaxy S4
Come aggiungere sottotitoli ai file MP4
Come convertire MP4 per iPad (iPad Air incluso)