Get instant answers to common questions.
All solutions to convert,edit,burn,download and capture any video or audio
Activation for windows
What can I do if I didn't get a registration code?
Situation 1: Check the confirmation email.
Please wait a few minutes for the system to generate and activate the registration code after purchase successfully, then try again.
Tips: If you purchase our product directly on our official website the registration code will be displayed on the Order Confirmation page. You can use the full version of your software once your order has been successfully completed.
Situation 2: Retrieve the registration code via our online registration code retrieval system.
Using this link, you need to submit your Licensed e-mail. If you fail to retrieve your registration information, contact us and supply us with your Licensed e-mail or the Order ID.
Situation 3: If you buy our product from one of our resellers, agents, eBay, or the App Store, we will not have your order information in our system.
If you purchase from App store, you don't have to wait for a registration code. Just launch App store and go to Purchase tab, you can install the full version directly.
Situation 4: Contact us and supply us with the following information in case the above doesn't help you:
1.Order ID, Full name, email address on the order
2.Name of the product(s) purchased, Date and amount of the charge and Name of the site the purchase was made on
3.Transaction ID of Paypal or credit card
Pack Up
What shall I do, if the registration code is invalid?
Step1: Make sure you install correct version of our product in your computer.
Step2: Ensure there is no trailing blank when entering the licensed E-mail and registration code and They are all zeros in the registration code, no letter O.
Step3: Contact us directly with a screenshot of the registration window for us to further analysis.
Tips: If you purchase the product from PurchMarketPlace,Amazon,Stacksocial,ect,the license email may not be your own email address, please double check the information offered by them.
Pack Up
How Can I install and register in Video Converter Ultimate?
Please copy and paste link below into your browser to download the full installer. Firefox is recommended.
http://download.wondershare.com/video-converter-ultimate_full495.exe
After the installation, open the program, click Main menu>Register to open the registration window, then copy and paste the following registration info to it:
Tips: Please ensure there's no trailing blank when entering your licensed E-mail and registration code.
Pack Up
What can I do if my Wondershare Video Converter Ultimate fails to update?
Step1: Click on "Video Converter Ultimate" on the top menu bar. Go to "Check for updates" to update manually.
Step2: In case above method is not working, you could go to our website and press Free Download. Or you could click the link below to upgrade to Wondershare Video Converter Ultimate directly.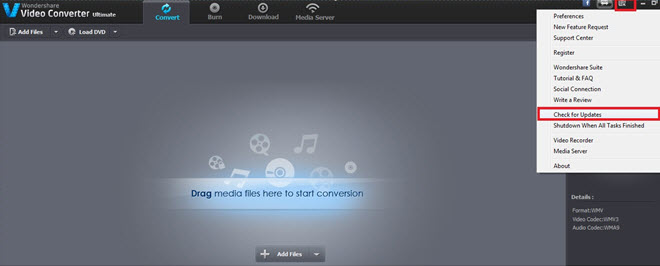 Win version http://download.wondershare.com/video-converter-ultimate_full495.exe
Mac version http://download.wondershare.com/video-converter-ultimate-mac_full735.dmg
Pack Up
What are the main differences among Video Converter Free, Pro and Ultimate?
1. Video Converter Free has limited functions of Video Converter Pro, it can only convert standard video/audio formats. What's more, the online download function is limited to YouTube only.
2. Both Video Converter Pro and Ultimate can convert non-protected videos and audio files, download online videos and record videos.
3. Video Converter Ultimate has all the features of Video Converter Pro. In addition, it also supports converting DRM files as well as ripping&burning DVDs.
Click below link to find detail comparison.
Pack Up
How do I register 8.0.6 or higher of Wondershare Video Converter Ultimate
The following steps will allow you to register your software if you are using version 8.0.6 or higher.

1. Click on the Register icon on the top right of the window, next to the shopping cart.
2. Click Sign in on the pop up window that will appear.
3. In the form fields copy and paste your registered e-mail and registration code from the e-mail you received after your purchase was completed.
4. Click the Sign in button.

Please refer to the screenshot as below.


Pack Up
Wondershare
Video Converter Ultimate
One-Stop Solution to Convert, Download, Edit and Burn any Video/Audio Files with Ease.