Full Review on YouTube to MP3 Converter to Download Dailymotion
If you are looking for a Youtube MP3 Converter Dailymotion Downloader recognizes as well, and allows you to download and/or convert the videos these sites have, you will learn a couple of important things here. For instance, you will learn how a web-based app, YouTube to MP3 Converter Dailymotion, can be used to get your favorite soundtracks, and what are the other, more trusted solutions you can try your hands on to get assured and quality results.
Part 1. How to Use YouTube to MP3 Converter to Download Dailymotion
As mentioned above, YouTube to MP3 Converter is a web app that allows you to download content from YouTube and Dailymotion. It even lets you convert the clips to another video or audio formats such as MP4, 3GP, M4A, MP3, etc. Although, as per the name, a YT converter Dailymotion recognizes and works with, you must go to the 'DAILYMOTION DOWNLOADER' tab to download Dailymotion videos MP3 files. Likewise, 'FACEBOOK DOWNLOADER' is another tab on the homepage that redirects a different page supporting URLs from Facebook.
Pros
It can be accessed from anywhere and any computer as long as it has the latest web browser and an active Internet.
It doesn't require any software to be installed on your PC.
Cons
It cannot work without an Internet connection.
Highly unreliable. At the time of this writing, YT to MP3 Dailymotion download process shows an error message saying, "Error downloading the remote file!".
The steps below explain how you can use YouTube to MP3 Converter Dailymotion downloader page to download Dailymotion videos as MP3 audio:
Step 1: Copy the Dailymotion Video's Valid URL to the Clipboard.
Launch your favorite web browser (Mozilla Firefox here), go to the Dailymotion's official website, search the video you want to convert to MP3, and copy its URL from the address bar at the top. Note: Make sure NOT to copy the short link using the Share (Airplane) icon present in the right pane page. This is because many tools, including YouTube to MP3 Converter, may not consider it valid.
Step 2: Go to the YouTube to MP3 Converter Dailymotion Downloader Page.
Open a new tab on the web browser, go to https://youtubetomp3.sc/, and click the DAILYMOTION DOWNLOADER tab from the top to get to the Dailymotion Video Downloader page for YT to MP3 Dailymotion conversion process.
Step 3: Paste the Link and Convert Dailymotion Video to MP3.
Paste the URL you copied in Step 1 in the Enter a Valid URL field, choose .mp3 (128kb), .mp3 (256kb), .mp3 (320kb), or video format from the available drop-down list, and click Convert It! to convert Dailymotion video to MP3 or MP4 and download it on your local storage as an audio or video file.
Part 2. Best Alternative to YouTube to MP3 Converter to Download Dailymotion
Considering all the limitations and disadvantages that YouTube to MP3 Converter has, any third-party tool that is efficient, robust, lightweight, and fast wouldn't be considered an alternative but a solution. Among many other apps for YT converter Dailymotion supports, the one that stands out is UniConverter by Wondershare. Wondershare UniConverter (originally Wondershare Video Converter Ultimate) recognizes URLs from almost all major streaming video sites and being a trusted and reliable program. It doesn't even come up with an error message telling it couldn't download the file. In case if there is some issue downloading the videos, 24 hours technical support team is always there to assist and resolve your problem almost instantaneously. Not only this, but Wondershare UniConverter is also a complete suite of multiple tools that help you perform many post-production tasks such as editing, color correction, etc. The built-in media burner even lets you burn your data to an optical disc like a DVD or Blu-ray.
Wondershare UniConverter - Best Video Converter and Downloader for Windows/Mac(Catalina Included)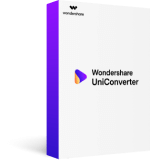 Download videos from Dailymotion and Youtube and other 10,000 popular online sharing sites.
Convert Dailymotion and Youtube videos to M4V, MP3, MP4, AVI, MKV, MOV, and 1000+ formats.
Burn Dailymotion and Youtube videos to DVD and play with your DVD player with free DVD menu templates.
Edit videos with trimming, cropping, adding watermark, subtitles, etc.
Edit videos and upload them to Vimeo and Youtube at fast speed.
Transfer video files from Mac/PC to iPhone/iPad/Android devices easily via a USB cable.
Multiple functions including Screen Recorder, CD Burner, Video/Audio Compressor, GIF Maker, Fix Media Metadata, etc.
Supported OS: Mac OS 10.15 (Catalina), 10.14, 10.13, 10.12, 10.11, 10.10, 10.9, 10.8, 10.7, 10.6, Windows 10/8/7/2003/XP/Vista.
Security Verified.
5,481,347
people have downloaded it.
You can learn how to convert Dailymotion videos to MP3 and other formats like YouTube to M4V, and download them using Wondershare UniConverter by following the steps below:
Step 1

Obtain Dailymotion Video's URL.

Use the process explained in Step 1 of the previous part (Part 1) to copy the URL of the Dailymotion video you want to convert to MP3.
Step 2

Go to Download and Set Up Download Preferences.

Launch Wondershare UniConverter on your Mac or Windows computer (a computer running Windows 10 is used here, for example), go to the Downloader tile, turn on the Download then Convert Mode switch at the bottom, go to the Audio tab from the top of the menu that comes up, select MP3 from the left pane, and pick your preferred audio quality from the right (Same as source for this example).
Step 3

Click Paste URL and Download Dailymotion Video as MP3.

Click Paste URL from the top-left corner, wait while Wondershare UniConverter downloads the Dailymotion video to your local storage drive and converts it to MP3, go to the Finished tab from under the tiles bar, and click the Open button present next to the file you downloaded to go to the destination folder and access and/or play the MP3 audio.
Part 3. Comparison Table Between YouTube to MP3 Converter and Wondershare UniConverter
After discussing the different Dailymotion Youtube methods to MP3 supports and recognizes, the table given below fairly compares the two solutions and helps you choose the best MP3 converter for YouTube, Dailymotion, or other such streaming video sites support, and allow their contents to be downloaded with.
| Features/Software | YouTube to MP3 Converter | Wondershare UniConverter |
| --- | --- | --- |
| Requirements | Web-based | Needs installation |
| Platform(s) | Runs on any computer | Only available for Windows and Mac |
| Dependencies | Requires Internet connection | Runs in online and offline mode |
| Scope/Range | Supports a limited number of sites | Supports almost all major websites |
| Reliability | Unreliable. Fails to function at times | Fully reliable. Works every time |
| Support | Hard to get technical assistance | 24-hour support available |
Conclusion
Even though YouTube to MP3 Converter Dailymotion supports is free to use and can be accessed from any computer, the online solution is highly unreliable. It may fail to download the links quite randomly and unpredictably. Therefore, to make sure that you get your favorite audio tracks even if they are available on Dailymotion as videos, you need an efficient and dependable tool like Wondershare UniConverter that is capable of downloading and converting Dailymotion videos to MP3 and other formats easily and quickly.